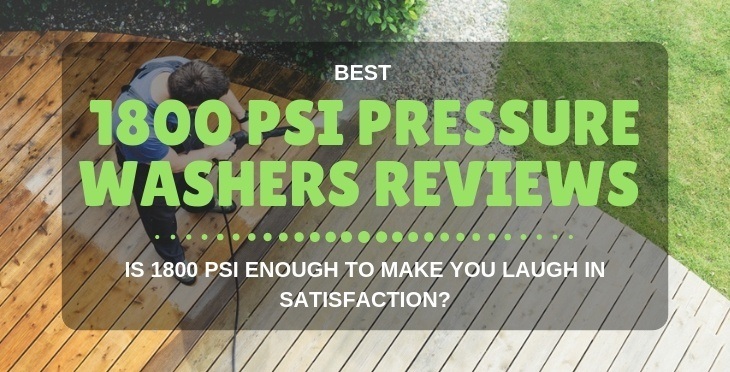 Best 1800 PSI Pressure Washer Reviews 2020
If you buy an item via links on this page, we may earn a commission. Our editorial content is not influenced by commissions. Read the full disclosure.
Got your eye on 1800 PSI pressure washer but not sure if it's the right PSI level for your needs? Read here & find out the tasks that fit for 1800 PSI units!
Why spend some time reading pressure washer reviews and forums before finally buying your next pressure washer unit? Well, I have two reasons for this: (1) I want to be updated on the latest pressure washer models in the market and (2) I want to know if the unit I am eyeing is really the machine that suits my pressure washing needs.
You see, there is actually a good fit for every pressure washer users, may you be professional, semi-professional, or just a consumer or residential user. Below I am going to explain to you the characteristics of the best pressure washer for each user, specifically discussing which category the best 1800 PSI pressure washer belongs to.
Best 1800 PSI Pressure Washer (Quick Comparison)
| | | | |
| --- | --- | --- | --- |
| | Briggs & Stratton 1800 PSI Pressure Washer | | |
| | Karcher K1800 1800 PSI Pressure Washer | | |
| | Greenworks GPW1802 Pressure Washer | | |
| | Karcher K3 Follow-Me Electric Power Pressure Washer | | |
| | HyperTough HT 1800PSI ELEC PW | | |
1800 PSI Pressure Washer Reviews
1800 PSI Electric Pressure Washer Reviews
#1 Briggs & Stratton 1800 PSI
A sturdy and powerful pressure washer machine is what Briggs & Stratton 20680 offers. This unit has 1800 PSI and releases 1.2 gallons of water per minute. Briggs & Stratton is a brand known for their durable and well-built semi-pro and professional pressure washer units.
Briggs & Stratton 20680 is an excellent choice for individuals who are looking for a pressure washer that can handle daily use. This is an electric pressure washer unit that comes with the needed accessories for common cleaning needs. Most pressure washer users rate this unit as most effective in smaller yet frequent cleaning tasks.
Karcher 1800 PSI Pressure Washer Review
#2 Karcher K1800 1800 PSI
Karcher has always been consumers' favorite for the past few years. The Karcher K1800 unit is hailed as the all-around pressure washer for light-duty up to medium-duty cleaning tasks.
But what makes this 1800 PSI Pressure Washer different from other units in the market is that it features an on/off foot switch instead of the usual button switch. Moreover, Karcher is king in warranty and replacement policies.
So, why did I include this unit on the list? Find out below!
---
Greenworks 1800 PSI Pressure Washer
#Greenworks 1800 PSI 1.1 GPM Electric Pressure Washer
If there is a brand known and loved for its compact and lightweight design, it's none other than Greenworks.
The Greenworks 1800 PSI Pressure Washer is one of the best-selling units form the brand. This is actually a power washer meant for home cleaning only. Since the unit is electric, you need a power source to put this one at work.
---
HyperTough HT 1800 PSI Pressure Washer
#HyperTough HT 1800PSI ELEC PW
HyperTough is a new brand that you shouldn't miss out on this season. This is a reliable pressure washer brand that even their refurbished models function perfectly.
If you want a mid-range priced pressure washer, with complete accessories, and is tested and certified, then no doubt that HyperTough is a good brand to try.
HUSKY Power Washer 1800 PSI
Introducing the 1800 PSI Pressure Washer form HUSKY Power, this is a highly durable, effective, and convenient home-use pressure washer.
Is It Worth The Money?
Considering it is an electric unit, having an 1800 PSI power and 1.5 GPM water flow is already impressive. What is more, is that it also includes a 23-feet non-marring hose and an adjustable turbo nozzle. It is also very easy to operate, making it suitable for beginners.
If we were to advise you whether this is an excellent option, then YES, we believe it is. However, this can only tackle light-duty home cleaning. So, in the end, consider the type of applications you intend to do first.
1800 PSI Power Washer Types (Users Category)
As the name entails, this category refers to the units specifically designed for home cleaning. Pressure washers for consumer use usually have 1500 to 1900 PSI and a flow rate of 1.2 to 1.76 GPM. A 1800-PSI pressure washer unit is a popular choice among many. Not only because of its cleaning power but also because such amount of pressure can effortlessly get rid of dirt without damaging the things or surfaced in question.
In terms of features, pressure washers in this category usually have a consumer-grade engine and pump and accessories like soap nozzle and soap dispenser. Since the main purpose is for home use, pressure washers for consumer use are built with a lightweight yet compact design for easy transport around the house.
This type of pressure washer is for people who are not yet a professional user nor a complete newbie. This type of pressure washers is ideal for those who constantly do cleaning tasks more often than in the usual household. If you are very particular with home upkeep, then this is the pressure washer type for you.
Pressure washers for semi-pro use can be used frequently around the house for various cleaning tasks. But did you know that there are also semi-pro pressure washers with a 1800 PSI pressure? The maximum number of flow rate can make all the difference. Consumer engine but with a professional pump are the notable features of this type.
Some consumers actually strive to score a professional pressure washer without even evaluating whether their needs do require one. For instance, if you are running a construction cleanup business, then getting a professional pressure washer is the best investment. However, if you're a mere homeowner, intending to use the machine for home upkeep, then a consumer or semi-pro type is what you need.
Buying a professional pressure washer when you can accomplish the same task and result using the consumer type is common. But experts recommend choosing the best value product, and doing so involves choosing which unit does its job well with the most affordable rate.
Pressure washers for professional use have both professional engine and pump. Using it every day in any rigorous task is not a problem, as long as you know how to store the unit properly.
With our further Ado, let me present to you the top four 1800 PSI Pressure Washers in the market today!
3 Best 1800 PSI Power Washer Brands
1. Briggs & Stratton
Briggs & Stratton is a reputable brand offering quality pressure washer machines. It is one of the top manufacturers of gasoline engines with an average engine production of ten million units every year starting last April 2015. Although the brand is known for their professional-grade units, a lot of customers still praise its products in the light and medium-duty category.
2. Greenworks
Greenworks is a brand well-loved for its home upkeep purposes. While this brand has amazing features like low noise technology and quick-connect nozzles, Greenworks is also known for offering low PSI level units, from 1500 PSI, 1800 PSI, and 2100 PSI. In a nutshell, Greenworks is an excellent choice for the best 1800 PSI pressure washer.
1800 PSI pressure washer for home cleaning needs? Give this brand a try now!
3. Karcher
Of course, last on the list but definitely not the least is the Dutch-owned company, Karcher. Known worldwide, purchasing your favorite Karcher 1800 PSI unit is a good investment. You just have to make sure you choose the right model.
Also, Karcher is among the first to offer faster replacement policies. Just make sure the unit you'll buy is eligible for the Rapid Exchange Program. This program will help you so much in the event that your pressure washer unit encounters problems.
The Best Value (Popular Choice By Many)
I mentioned it earlier, but I'll reiterate it here. I find this unit as the best value 1800 PSI pressure washer in the market recently. Also, out of all the 4 units on the list, this is the only pressure washer which pump is anti-corrosive and low-maintenance.
Why do I find this feature amazing? Well, one of the most common reasons why a pressure washer easily depreciates and becomes less effective is when its pump or motor is poorly maintained. But such an issue will never be a thing with Karcher K3, thanks to its advanced pump protection. Its pump is an N-COR pump type, which is responsible for the unit to be durable enough to last for a long time.
Not only that! This 1800 PSI pressure washer unit is also known for its spray wands. You can use a Dirtblaster spray wand or a Vario power spray wand depending, of course, on the task at hand.
And the best part is that you can get this unit for less than $200! If you're luckier, this 1800 PSI pressure washer is always on sale. Thus, there is a high chance you'll get it at an even lower price.
FAQs About 1800 PSI Pressure Washer
I know you have several questions in mind, including whether a 1800-PSI unit is a good fit for your needs. This Frequently Asked Question section is written to help you out on this matter.
1. Is 1800 PSI Pressure Washer Good For Cars?
Experts recommend buying a unit between 1200 PSI to 1900 PSI for washing the painted parts of the car. When washing the parts underneath the vehicle which often get dirty and muddy easily like the wheels, a slightly higher PSI but not more than 2300 PSI is considered.
So, to answer the question "Is 1800 PSI pressure washer good for cars?" Yes, it is.
2. Can I Clean My Driveway With 1800 PSI Power Washer?
Yes, you can, but the real question is whether it's enough to deliver great result? After a thorough research, I find out that driveway cleaning usually requires a pressure washer with 3000 PSI, although 2800 PSI will also do the job. So, in this sense, 1800 PSI is not the best choice for driveway cleaning.
However, the PSI is not the only factor that affects a pressure washer's cleaning power. We still have to consider the unit's GPM. Let say, for instance, your 1800-PSI pressure washer has a flow rate of 3.0 GPM. It would total to 5,400 cleaning power, which is good enough for tough cleaning tasks like that in the driveways.
3. Is 1800 PSI Good For Commercial Use?
As mentioned above, it's quite difficult to rate a pressure washer unit based solely on its PSI. However, most professional-grade pressure washers often use in light commercial purposes have a PSI of 2900 or 3000 with a flow rate of 3.0 to 4.0 GPM. Thus, we can assume that for a light commercial use, 8,700 to 12,000 cleaning power is needed.
In connection, most 1800-PSI pressure washer units can reach the required cleaning power for commercial use if it has a flow rate of at least 5.0 GPM, which is rarely being offered in the market.
Conclusion
Pressure washers are available in various PSI and GPM levels for some reasons. Moreover, it pays to know if 1800 PSI level is a good fit to your needs. So, don't buy in haste; take your time; and get the best value product in town.
Have you tried using a pressure washer unit with 1800 PSI level? How was it? Read this article and find out more about 1800 PSI pressure washer unit.
Thank you for sparing a bit of your time reading this article. Don't forget to comment and share! 🙂
TOP 5 most viewed articles in month
In compiling a top-5 list of this month's most popular articles: