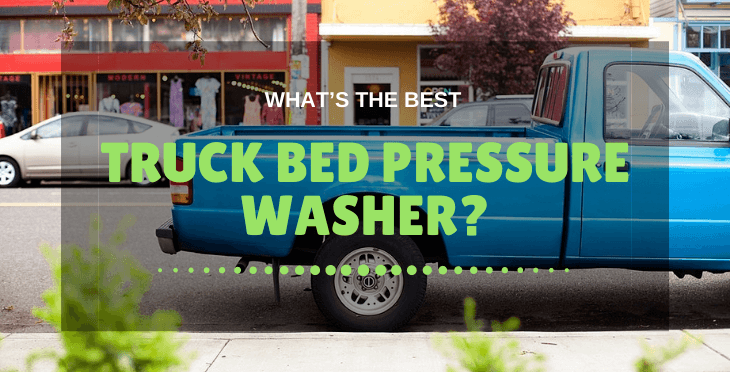 Best Truck Bed Pressure Washer Reviews 2021
If you buy an item via links on this page, we may earn a commission. Our editorial content is not influenced by commissions. Read the full disclosure.
What's the best pressure washer for truck bed cleaning? Definitely not the light-duty ones. Find out what PSI level is best for truck bed pressure washer!
Cleaning the bed liner of your pickup truck is no easy feat. But with the help of the right truck bed pressure washer, you can definitely get rid of those stains and dirt.Enter your text here...
Another question that gets to be asked frequently is the recommended PSI level for such a cleaning application.

Is medium-duty enough or a higher psi level is necessary?
Well, you have to keep reading as we will tackle both of these below:
Best Truck Bed Pressure Washer Reviews
If you are wondering what's the best truck bed pressure washer setup to buy, then you have two options: electric or gas-powered pressure washers, as long as they are in the medium-duty category.

The thing that matters is the CU or the cleaning unit of the machine, which can be determined through its psi and gpm levels. In other words, both gas and electric pressure washers are suitable for truck bed cleaning.

The recommended CU should be somewhere between 2,800 CU (minimum for simple cleanup) up to 8,000 CU (maximum for stubborn stains and dirt).

#AR Blue Clean AR2N1 2,050 PSI Electric Pressure Washer
For simple cleaning tasks, like mud and dust, you do not need a higher psi level for that. A unit with 2,800 CU power is enough to complete the task.

This is why the AR Blue Clean AR2N1 pressure washer is highly recommended. This is an electric truck bed pressure washer that can be easily carried and is powerful enough to blast away dust and mud without much of an effort.

The machine weighs 29 pounds and has a cord with a length of 35 feet, perfect for truck bed cleaning. We think this machine is perfect for a quick and easy cleaning task as it is easy to use and its quality is guaranteed.

---
#Simpson Cleaning MSH3125 3200 PSI Gas Pressure Washer
For stubborn dirt and stains, you definitely need a higher psi pressure washer for that. For truck bed power washer specifically for tough dirt, we recommend the Simpson MSH3125; the one with 3200 psi level.
This gas power washer is one of Simpson's best-selling units and it is all for good reasons. Firstly, it is 100% functioning and effective. It makes use of Honda engine GC190, which produces strong pressure that can blast away stubborn dirt from your truck's bed liner.

Although quite heavy and bulky, this pressure washer is popular among homeowners for residential purposes too. This is usually used for cleaning driveways, basements, and garage.
If your truck bed has oil spillage and a lingering odor of fuel, then this is the best truck bed pressure washer to use.

Final Thoughts
Alright, so to answer the question, what's the best truck bed pressure washer?
We'd say, the medium-duty category is enough for this application.
How about the PSI and GPM level?

Well, it depends as long as the CU is somewhere between 2,800 to 8,000 CUs. To calculate, please refer to the formula below:
The CU tells you how powerful the pressure washer is and most professionals use this as a reference as to which power washer to buy.