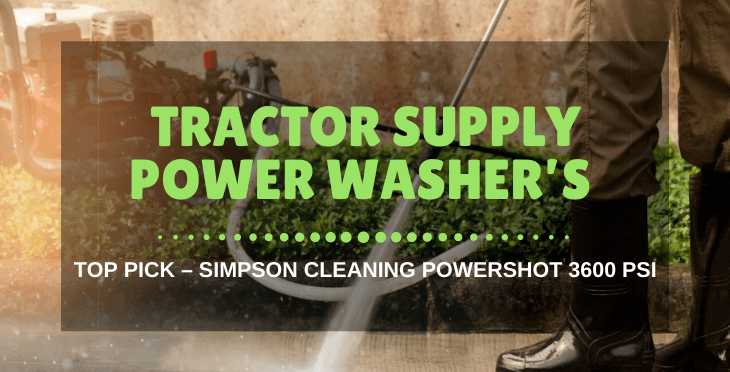 Tractor Supply Power Washer's Top Pick 2021
If you buy an item via links on this page, we may earn a commission. Our editorial content is not influenced by commissions. Read the full disclosure.
Tractor Supply Power Washer options may not be as popular as Amazon but their products are recommended by many, especially for power cleaning in rural areas.

Tractor Supply is the largest retail store for a rural lifestyle, think about farming, agriculture, and outdoor living. That is why their best-selling products are mostly lawn and garden, as well as truck and off-road products.

And this includes Tractor Supply power washer.

Wait! Does this mean they have their own pressure washer brand?
Not really. But they do have a wide range of reliable pressure washer brands on their website, which they claim to have tested and carefully chosen to offer to their customers.

Curious what pressure washers they have in store and what they highly recommend?
Tractor Supply Power Washer On Sale!
Alright, so we did our research and we find out that a lot of medium-duty and heavy-duty pressure washers are on sale on Tractor Supply website.
One that really caught our interest is the Simpson Cleaning ALH3425 Gas Powered Pressure Washer, which is also available on Amazon.

If you want to know what we think of this particular pressure washer unit, then check out our review below:
Simpson Cleaning PowerShot 3600
First of all, we want to make it clear that this particular model is more of a medium-duty unit but is really powerful at 9000 CU. This means that it is strong enough for trucks and RVs and if used with the right attachments, this can also be used for certain commercial and job site applications.
At first glance, one can tell that it is a bulky pressure washer as most of Simpson Cleaning pressure units are. With its signature black and red colors, you can immediately see this pressure washer is built to last. It has a steel frame construction with an estimated dimension of 30 x 24 x 21 inches. It has a Honda GX200 engine and is equipped with amazing features.
What Customers Have To Say?
There are mixed reviews about this Tractor Supply pressure washer, but majority are in favor. Many said it is reliable, durable, and if you buy from Tractor Supply, you will have a great customer service experience.

This is also constantly on sale at the website, making it even more popular for those who want to save some bucks when buying gas-powered pressure washer.

The Verdict
Tractor supply power washer - Simpson Cleaning PowerShot 3600 PSI is worth the investment if you have trucks, RVs, or you have a car washing business. The durability and quality it offers, plus the amazing features leading to its optimum performance make the price reasonable.
If you want a much higher PSI level pressure washer form Simpson Cleaning, then you should check out our Simpson 4200 PSI Pressure Washer review. Maybe a heavy-duty pressure washer is your perfect match!