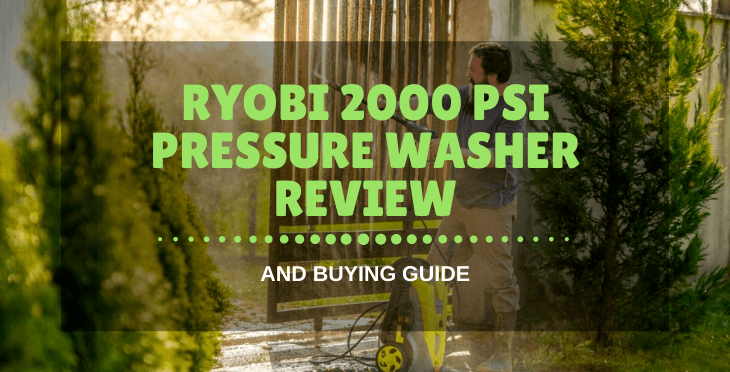 Ryobi 2000 PSI Pressure Washer Review & Buying Guide
If you buy an item via links on this page, we may earn a commission. Our editorial content is not influenced by commissions. Read the full disclosure.
Interested to get a Ryobi 2000 PSI pressure washer? Read this comprehensive Ryobi 2000 psi pressure washer review first before you buy one!

When it comes to pressure washers, one of the main brands that will usually come to mind is Ryobi. One of the best model lines that you'll find under this brand is actually the Ryobi 2000 PSI pressure washers. Of course, you're probably asking yourself right now, "Is Ryobi 2000 PSI good for a pressure washer?"
That's what we're going to discuss in this Ryobi 2000 psi pressure washer review.

With this guide, you can judge for yourself if all the hype is really worth it. We also have an alternative if ever you think that our choice isn't for you.

So, shall we get started now?
Ryobi 2000 PSI Pressure Washer Review: Features & Specifications
There's really no other way to judge a product than to get right to the features and the specifications. So, let us introduce you to the Ryobi RY141900 2.000-PSI 1.2 GPM, our star product.

To start this guide, we're going to show you some of the important details of the product so that you'll have a pretty clear idea as to why we chose it in the first place.

Now, just to give you a quick idea, this is a 2000 PSI and 1.2 GPM pressure washer. If you have used pressure washers before, you'll know that this is a pretty good figure. But we'd probably say that it is ideal for residential areas.

Also, the reason for its strength is that it is backed by a 13 Amp electric motor which makes it amazing. It is also pretty durable, strong, and easy to use. That said, here are the specs that you'd probably want to know:
Ryobi 2000 PSI Power Washer Is Best For Who?
While generally speaking this product is a great one, we'd say that it isn't for everybody. That's why as a part of our Ryobi 2000 psi pressure washer review, we'd like to add some value by showing you who this product is for so that you'll know if it is actually for you or not.

First of all, it is ideal for residential areas. While it is strong and robust, we can't say that it has the range of coverage for commercial areas like factories or big offices. Therefore, if you happen to be a homeowner who wants to clean his or her home, then this product is definitely for you.

Because of the lightweight design, this product can actually be used by both women and men. Lifting and bringing it around isn't too hard because it's light and has wheels that allow you to drag it around.

It's actually a product for pretty much anyone as long as you're using it to clean residential areas. In addition, it isn't hard to learn how to use Ryobi 2000 psi pressure washer. Thus, you shouldn't have a hard time using it at all.

Ryobi 2000 PSI Alternative
If you've read the reviews for Ryobi 2000 psi electric pressure washer and think that the Ryobi 2000 isn't exactly the product for you, we do have an alternative. The alternative is none other than the Ryobi 1700 PSI 1.2 GPM Pressure Washer.

This product is not as strong as the Ryobi 2000 in terms of PSI, but in terms of robustness and durability, this is definitely much better. It is also good for residential areas, but we can say that it can also be used for cleaning offices as well. It is more rugged and as a 25-feet non-marring high-pressure hose, giving it more coverage.

Here are some of the interesting specs that you'd probably like to know about:
This is a great alternative if you own an office and need it cleaned regularly.

Conclusion
And there you have out, a complete Ryobi 2000 psi pressure washer review. Now that you know what the product is all about, then you'll know exactly whether you should buy it or not. We're pretty sure that it's something that you'll really love. After all, we chose this product based on some research and some firsthand experience.

But if it's not, then we always have the alternative which is the Ryobi 1700. While it isn't exactly as strong as the Ryobi 2000, it does serve a different purpose.
With our guide, you know exactly what you're buying!
Did you think that our guide was a really big help?

Then share it with your friends who also can't make up their mind on which pressure washer to buy. It might also help them out the same way it did with you.