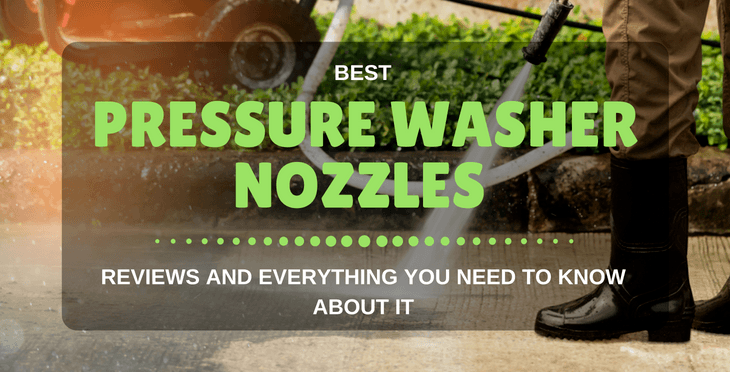 The Best Pressure Washer Nozzles Reviews in 2020
If you buy an item via links on this page, we may earn a commission. Our editorial content is not influenced by commissions. Read the full disclosure.
Be informed on the right type of nozzle to use for your cleaning job. Read the reviews now and learn everything you need to know about pressure washer nozzles!
You have probably used different nozzle tips a couple of times. But did you know the right pressure washer nozzle types should be used to get the result you wanted?
If you tried pressure washing the grease on your vehicle in the past, but it took quite some time before the grease and dirt were removed, or worse, the car paint was already scratched, then perhaps you were using the wrong nozzle tip for that specific cleaning job.
Today, we're going to guide you through the know-how to perfectly match the best pressure washer nozzle to your cleaning surface and the task at hand. This way, you'll get a sparkling clean surface, minus the damage.
5 Best Pressure Washer Nozzles
Everything You Need To Know About Pressure Washer Nozzles
Pressure Washer Nozzles Reviews
#1 Obecome Pressure Washer Nozzles
This pressure washer nozzle set of 5 is a cheap option. It has the common 5 nozzle tips, which are color-coded. The different pressure washer nozzle colors make it easier for you to identify the nozzle type degree. This may be one of the cheapest options out there, but Obecome can be used for high-pressure washing of up to 4000 psi.
---
#2 Twinkle Star Pressure Washer Nozzles
Just like the Obecome nozzles, Twinkle Star Pressure Washer Nozzles also come in color-coded pieces— red for 0-degree, yellow for 15-degree, green for 25-degree, white for 40-degree. This is also a very cheap nozzle option, considering you'd get 5 nozzles in a single order.
The only issue I have with these nozzles is that they are only compatible with pressure washer gun and wand. So, better check your pressure washer unit beforehand.
Still, the Twinkle Star nozzles have their own charm.
---
#3 DUSICHIN DUS-02 Pressure Washer Nozzles
Dusichin tops on the list as I search for pressure washer nozzles on Amazon. Not familiar with the brand, I find myself googling it, and to my surprise, Dusichin has a plethora of pressure washer nozzle attachments and accessories available on their site.
Same with Obecome and Twinkle nozzles, this one also includes the 5 common nozzle tips. They also have various nozzle sizes available, which you can check on their sizing chart (included in the package as well).
---
#4 Simpson Cleaning 80157 Pressure Washer Nozzles
Knowing that these nozzles are manufactured by Simpson, a popular pressure washer brand, this set gives me high expectation. Simpson claims that these nozzles are easy to connect and use. But I noticed that unlike the first three nozzles on the list, the Simpson soap nozzle is made out of stainless steel. Obecome, Twinkle, and Dusichin nozzles, on the other hand, use a brass material for the soap nozzle. Brass nozzles are safe to use in hot water pressure washer.
---
#5 Briggs & Stratton 6195 Turbo Spray Nozzle
Briggs & Stratton is a brand known for their high-pressure pressure washer machines. Hence, it is not at all surprising that the brand also offers a powerful pressure washer nozzle. This turbo nozzle can cut your cleaning time by 40%. In terms of cleaning duties, this powerful turbo nozzle gives good results when used for cleaning surfaces made out of vinyl, brick, and concrete. Lastly, it works well when removing loose paint from furniture pieces.
Ryobi Pressure Washer Nozzle Review
#Ryobi Homelite Pressure Washer Nozzle Replacement
This pressure washer nozzle is appropriately sized giving the pressure washer enough distance to clean roofs but not making it produce too much pressure that may damage your property. It's also a 40-degree angle, which makes it ideal for washing cars and homes.
What really makes this product attractive is that it comes in a pack of two. If you buy this pack, you can save money rather than buying 2 individual pressure washer nozzles. This also ensures that you have a spare in case the first one wears out.
How A Power Washer Nozzle Works
How can a tiny attachment create so much power? I actually asked the same thing the first time I was introduced to the different types of nozzles and how much force can each produce.
But the role of nozzles when pressure washing is actually simple yet useful.
The Scenario: Let say, you have your garden hose with you and you're now ready to start your cleaning job. However, you want to get rid of the dirt which is basically 15 feet or so from where you are.
So, you aim the garden hose to the dirt's direction, but the water just can't reach it. The water pressure isn't enough to blast the spray. What would you do?
The Solution: You pressed the hose's opening with your thumb, thus blocking 3/4 of the opening. Because of the pressure applied, the water now blasts forcefully through the remaining 1/4 orifice and reaches the 15 feet distance.
Attaching the nozzles at the tip of the garden hose actually follows the same theory. The nozzle blocks the water coming out of the hose so that the water is forced to exit through the nozzle's small orifice.
So, how does a pressure washer nozzle work? This is how nozzles are able to produce such force: You restrict the water flow by only allowing a small opening, then the velocity increases. This increase prompts the water spray to blast, thus reaching a certain distance.
Pressure Washer Turbo Nozzle: How It Works
If you're new to using pressure washers, you may be wondering how something as small as a pressure washer turbo nozzle can be so powerful. In order to do that, you need to know the mechanism of a nozzle.
So, how does a pressure washer turbo nozzle work, anyway?
When cleaning with a pressure washer, you make use of a hose to spray the water at the dirty part of your home. However, there is usually not enough pressure behind the blast to reach very far (let's say you want to spray the roof). What the nozzle does is that it concentrates all the force into one small hole. Because of that, the pressure behind the hose is much stronger. Since the pressure is stronger, the speed also increases, enabling the water to reach further than it originally could.
Why Is It Important To Choose The Best Pressure Washer Soap Nozzle?
Now that you know how a nozzle works, the next thing to know is which one to buy. The tricky thing about nozzles is that not all of them work the way you want them to. That's why it's extremely important to know how to choose a good one (we'll provide you some of the best ones in our pressure washer turbo nozzle reviews later on).
In any case, here are the two main reasons as to why you need to know how to carefully and intelligently choose your pressure washer soap nozzle:
Not All Sizes Are The Same
When we talk about nozzle size, we're usually talking about the size of the hole. As mentioned earlier, the small hole helps concentrate the strength of the water and increases spraying pressure. So, the smaller the hole, the stronger the pressure. The size that you're after depends on how strong you want the pressure washer to spray water. That's why you need to familiarize yourself with the various sizes.
Not All Nozzles Can Be Used For All Types Of Surfaces
In relation to the first reason, some nozzles can produce so much strength that it can destroy or damage various surfaces that aren't very sturdy. That's why you must also know which size of the nozzle can be used with which type of material without causing damage.
When To Use A Rotating Pressure Washer Nozzle?
While the ordinary pressure washer nozzles shoot straight streams of water, you may notice that there are some nozzles that create spinning stream that's wider than your straight stream.
Can you get your pressure washer to also do that?
The thing is that your pressure washer turbo nozzle won't spin unless you use rotating nozzles. These nozzles are what create a circular stream of water.
When exactly do you use these types of nozzles instead of the straight shooters?
Here are some situations wherein these nozzles can come in handy:
Pressure Washer Nozzle Chart
What Are The Different Types Of Pressure Washer Nozzles?
We've mentioned earlier that choosing the right type of nozzle is a crucial step to getting the desire cleaning result without leaving any form of damage on the surface. So, what types of pressure washer nozzles are there for you to choose from?
There are basically seven pressure washer nozzle types used in both electric and gas pressure washers. Five of which are commonly used and are identified through their assigned colors. Let's check them out below!
1. 0-degree Pressure Washer Nozzle
The 0-degree nozzle is also known as the red nozzle. This nozzle does not fan out the water spray at all, thus directing a great amount of water pressure in about a quarter coin-size of space.
I rarely use this type of nozzle because of two reasons: 1) it can be a bit unsafe to use, especially if you accidentally hit someone with the water coming from the nozzle, and 2) it covers, thus it takes more time to complete a simple task.
2. 15-degree Pressure Washer Nozzle
The pressure washer nozzle at 15-degree is a great choice if you want to get rid of stubborn stains and oil. This pressure washer yellow nozzle spreads out the water spray at 15-degree angle, thus the name. The pressure coming from this nozzle is less since the force is spread out a little bit.
I personally think this is the best pressure washer nozzle for concrete and other porous materials. And because it works well in removing stubborn stains, many users also consider this type as the best pressure washer for removing paint.
3. 25-degree Pressure Washer Nozzle
The 25-degree nozzle is the pressure washer nozzle in green color. This is a popular choice for home use, as it produces enough force to remove dirt but not to the extent of damaging the surface.
I love using this green nozzle when cleaning power tools like a lawn mower, patios, decks, and fences.
4. 40-degree Pressure Washer Nozzle
The 40-degree pressure washer nozzle produces a gentle spray. The water spray is spread at a wide angle that the water pressure is soft enough to use on glass windows and wooden decks. In terms of color, this nozzle is often available in gray or white.
5. 65-degree Pressure Washer Nozzle Or Soap Nozzle
You can see this pressure washer soap nozzle in almost all pressure washers for home use. This is a default nozzle tip included in most packages because of its versatility when it comes to cleaning sensitive surfaces around the house.
Also, the fact that this nozzle can pull the soap or detergent into the line makes it even more appealing for homeowners. No need to soap the surface before spraying it with water. This soap nozzle in black color will do the soaping and pressure washing altogether.
6. Rotary Turbo Pressure Washer Nozzle
If you think the zero-degree pressure washer is the strongest among the seven types, then the rotary turbo nozzle will surely change your mind. This nozzle is a combination of the 0-degree and 25-degree nozzles. The blasting force of the zero-degree nozzle can remove old stains and dirt while the rotating speed of the 25-degree nozzle spreads the water spray, thus covering more space.
On average the rotary turbo nozzle rotates at 1800 to 3000 rotations per minute or RPM.
7. Pressure Washer Adjustable Nozzle
To know more about the different types of pressure washer nozzles and the amount of force each can produce, watch this video:
Choosing The Right Nozzle Tip For Your Cleaning Job
I've read quite a number of reviews about pressure washers and some guides on how to choose the best attachments including the pressure washer nozzles. One thing I realize after a few reads though is that how people assume the entire choosing process is a difficult one.
For me, it isn't difficult at all. What you need is just one thing— common sense. If you have it, you'd be able to think properly and able to decide the best nozzle to use for a particular cleaning surface. However, I do acknowledge the fact that knowing the basic buying tips and tricks can help.
So, in this section, I'm going to share with you my 3 tips for choosing the best pressure washer nozzle for your cleaning job.
1. Avoid The Narrow Angle Spray Nozzles On Your First Attempt.
Common sense dictates to start with the nozzle tip that is less damaging to the surface. In this case, you can choose between the 25-degree nozzle and the 40-degree nozzle. These two nozzle tips have a wide fan water spray, meaning the water that hits the surface has less force as compared to 0-degree and 15-degree nozzles.
2. Always Test On Small Area First.
It is also common sense to do a test first until you find the perfect nozzle for your cleaning job. When doing the test, aim the nozzle at a small area to check if it does the job well. If it's too gentle, then you can easily switch to a narrower nozzle. The problem is when you wrongly use a nozzle that is too aggressive for the task, you'll find damages on the surface.
To at least minimize the damage (if ever), test on small area first. However, if you diligently follow the first tip above, then accidentally damaging the surface will not be an issue.
3. Consider The Pressure Washer Nozzle Size.
Aside from the pressure washer nozzle types, the nozzle size has to be considered as well. The nozzle size actually refers to the orifice size or the hole size of the nozzle. The rule of thumb is that the smaller the orifice size is, the greater the greater the restriction, hence the stronger the pressure.
So, how do you determine what size of pressure washer nozzle is appropriate for the task at hand? To be safe, check the PSI level and the GPM of your pressure washer and match it to know the best pressure washer nozzle size to use.
Simply check the Nozzle Size Selection Guide. Some pressure washer nozzle manufacturers usually have a size chart to help their customers, but you can use this size chart as a guide as well.
How To Care For Your Nozzles
Caring for your pressure washer nozzles is simple and easy. Just follow the steps below:
FAQ About Power Washer Nozzles?
1. Which Pressure Washer Nozzle Is For Vinyl Siding?
The 15-degree and 25-degree nozzles are best for vinyl siding. But start with the wide angle nozzle— 25-degree, and check if the pressure coming from it is enough to remove the dirt from the siding. Then change to 15-degree if you think you need more pressure.
2. Which Pressure Washer Nozzle Is For Decks?
The 40 and 65-degree nozzles are the usual choices for deck cleaning, as per the article posted on The Spruce. But the green nozzle (25-degree) also works well, especially for stubborn stains.
3. Which Pressure Washer Nozzle Is For Cars?
This question is a bit tricky. The nozzle tip to use depends on which part of the car you are aiming for. I'd use the 25-degree on most parts but usually switch to the 40-degree nozzle when handling delicate parts of the car, such as the windows and mirrors.
4. How To Determine Pressure Washer Nozzle Size?
There is no better way to do this but to follow the sizing chart of your pressure washer nozzle brand. Most popular brands have a sizing chart, anyway. Usually, you have to match the PSI level and the GPM of your pressure washer to get the recommended nozzle size to use.
That seems like a lot of work? No worries, you can use the nozzle calculator here!
Conclusion
Pressure washer nozzle is an attachment that proves to be very useful so that you can complete your cleaning tasks efficiently. Most pressure washer experts suggest getting the 5 common types (0°, 15°, 25°, 40°, and 65°) for beginners. Other users also opt to buy nozzles from popular brands. But personally, I think the brand of the nozzle tips you use is second only to choosing the right type of nozzle for your cleaning job. As long as you follow the tips given above, then you're starting to become a pro.
Which pressure washer nozzle do you usually use? Let us know in the comment section below!
Sources
2. This informative video by Mi-T-M is also helpful.
TOP 5 most viewed articles in month
In compiling a top-5 list of this month's most popular articles: