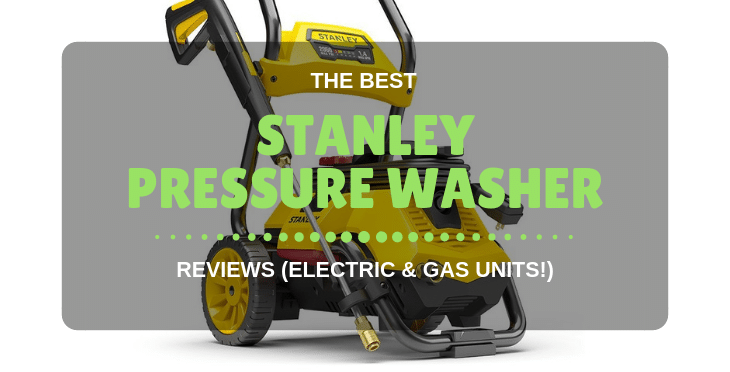 Best Stanley Pressure Washer Reviews 2020 (Electric & Gas Units)
If you buy an item via links on this page, we may earn a commission. Our editorial content is not influenced by commissions. Read the full disclosure.
The best Stanley pressure washer ensures that you can totally clean your house from top to bottom. Here are our top picks for the best units from this brand!
Your house will need to have an overall deep cleaning to take away all the hidden dirt, molds, and other debris in the hard-to-reach areas. The best way to do that is to invest in a really good pressure washer.
If you find yourself having a difficult time choosing which pressure washer brand to buy, then the safest thing to do is to go for well-known brands, such as Stanley. Pressure washer units from Stanley are already proven and tested by a lot of users. Hence, it is easier for you to know what to expect and the cleaning tasks that each unit can supposedly do best. Overall, most homeowners prefer Stanley pressure washers for their quality and durability.
If you are considering of giving Stanley pressure washer a try, then this comprehensive Stanley electric pressure washer review will help you pick the best Stanley Pressure washer for your specific cleaning needs.
Quick Comparison: Best Stanley Pressure Washer
| | | | |
| --- | --- | --- | --- |
| | | | |
| | Stanley SLP2050 2050 Psi 2-in-1 Electric Pressure Washer | | |
| | Portable and Lightweight Stanley SHP1600 1600 Psi Electric Pressure Washer | | |
| | Heavy Duty Stanley SHP2000 2000 psi Electric Pressure Washer | | |
| | Stanley SHP1900 1900 psi Electric Pressure Washer | | |
| | Stanley FATMAX SXPW3425 3400 PSI Gas Powered Pressure Washer | | |
Everything You Need To Know About Stanley Power Washer
5 Best Stanley Electric Pressure Washers Today!
#1 High Powered Foaming Stanley SHP2150 Electric Pressure Washer
Known to be one of the best Stanley pressure washers on the list, it comes with a high pressure foamer feature, allowing the soap to get into the deepest parts of the surface. Aside from that, it is also very strong and precise, allowing you to concentrate the spraying power on specific area.
In terms of durability, I can vouch for this model's quality. In fact, its hose is not just abrasion proof but also leak proof, as it is made of top grade brass material. Lastly, it comes with a 2-year warranty for defective Stanley pressure washer parts and malfunctions.
---
#2 Stanley SLP2050 2050 PSI 2-in-1 Electric Pressure Washer
This Stanley electric pressure washer model is pretty unique in a sense that it comes with a mobile cart. Because of this mobile cart, you can push the pressure washer around easily, as if you're pushing around a wheelbarrow or a push shopping cart.
Of course, you can also detach the pressure washer from the mobile cart and carry it around with you if you're traveling. This model has an abrasion proof hose and leak proof connectors . However, it goes the extra mile with its water-saving hose, allowing you to save more water than the usual garden hoses.
Stanley 1600 PSI Pressure Washer Review
#3 Portable and Lightweight Stanley SHP1600 1600 Psi Electric Pressure Washer
If you're looking for a portable electric pressure washer that can be easily transferred by hand, then this Stanley Pressure washer 1600 psi is what you're looking for.
This is known for its small size and lightweight built. Because of that, you can actually bring it around during your camping trips if you have an RV (recreational vehicle). Just like the previously mentioned Stanley pressure washers, this one has a concentrated water sprayer, allowing you to deep clean outdoor vehicles. It also comes with a variable spray nozzle for you to control the water's speed and power.
Stanley 2000 PSI Pressure Washer Review
#4 Heavy Duty Stanley SHP2000 2000 psi Electric Pressure Washer
This heavy-duty electric pressure washer is an all around pressure washer that combines the features of the previously mentioned pressure washers on the list, making it one of the best Stanley pressure washers in this review.
First off, it has a PSI of 2000, which is quite powerful for a standard electric pressure washer. Aside from that, it has a lot of cool features to boot as well. It has a hose reel, which allows you to recall and roll up the hose when you're done. Furthermore, it has its own built-in detergent tank— something that a lot of pressure washers don't have (most have a detachable one that you need to take out when you refill). Lastly, it features a leak proof connections and an abrasion proof hose, much like the other pressure washers that we've mentioned above.
---
#5 Stanley SHP1900 1900 psi Electric Pressure Washer
This Stanley Pressure Washer is actually very similar to the SPH2000 model with the only difference being that it uses 1900 PSI instead of 2000 PSI. While the previously mentioned one is good for cleaning houses and villas, this one is great for cleaning condo units and apartments (also vehicles like cars or vans).
It is still quite powerful with 1900 PSI and has a very soft and flexible hose. Unlike most garden hoses, this one doesn't kink even when you lay it on the ground. This feature allows you easier use of the pressure washer, as well as easier storage.
The Best Stanley Gas Pressure Washer
Stanley FATMAX SXPW3425 3400 PSI Gas Powered
Electric pressure washers are usually preferred by homeowners because gas-powered pressure washers often use too much oil or gas, making them more demanding of resources. However, the Stanley FATMAX pressure washer is one that can provide you with a lot of power but with low energy consumption.
It contains a special Stanley engine that has a low oil shutdown and uses a very powerful horizontal axial cam pump. It's also got a very durable steel body that doesn't rust or corrode easily. Other than that, it also comes with a pushcart design, allowing you to move it around pretty easily.
Stanley Pressure Washer Brand
If you're pretty new to pressure washing, you might probably ask why Stanley is the brand of choice but not any other brand in the market. Well, Stanley is one of the most reputable power tool manufacturing brands in the country, being a market leader ever since 1843.
They're known for creating some of the most powerful pressure washers that are complete with innovative features unique to their brand. Due to their innovation, many customers choose Stanley pressure washers over other brands any day.
Why Do I See Stanley Logo On Other Brands?
As mentioned above, Stanley is one of the most well-loved brands in the pressure washer market. In fact, many other pressure washer manufacturers use the Stanley logo when promoting some of their products. What these manufacturers would do is to pay Stanley Black & Decker for the use of the Stanley logo and color scheme.
These manufacturers believe that putting a Stanley logo will boost their products' credibility simply because the Stanley logo is there. This actually does make sense because Stanley is a very credible brand. By associating their product with the Stanley name, the product instantly also becomes credible.
That just shows us how powerful the Stanley brand is. It also tells us that Stanley is a very powerful player in the market with a lot of influence. If other manufacturers want to use the Stanley logo on their products, it definitely must mean that Stanley is a big shot name.
What Do People Have To Say About Stanley?
If you check most Stanley Pressure washer reviews on the internet, you'll see that a lot of people love the Stanley models - both gas pressure washers and electric pressure washers alike. You'll also find a lot of reviews that rate the Best Stanley Pressure washer models with a long list of pros. We can say that Stanley is definitely well-loved by the average consumer.
For this reason, it is indeed understandable why a lot of customers would love to know more about Stanley Pressure Washer. Luckily for you, I've done my own research and accumulate relevant information that will help you choose the best Stanley pressure washer suitable for your intended cleaning task.
Important Features Of Stanley Pressure Washers
These features are what a lot of customers love about the Stanley Pressure Washer, namely axial cam pump, abrasion resistant hose, pressure control, and powerful engine.
If you check out the reviews below, you'll notice that a vast majority of the Best Stanley Pressure Washers use an axial cam pump, either horizontal or vertical. The great thing about axial cam pumps is that they can give a higher PSI, which means a higher pressure. These pumps also have a bigger oil reservoir and have a long lifespan— longer than other types of pumps except the triplex plunger pump, which is the highest quality pump for gas pressure washers.
You'll find that the hose used by most Stanley pressure washers is extremely durable and abrasion resistant. This is because it is a poly braided abrasion resistant pressure hose specially made of tough material to take the pressure from the water.
All the pressure washer models from Stanley come with an ergonomic water sprayer nozzle that has a pressure control feature. This allows you to control the water spray, depending on how much power you need for the task at hand. You can spray with very strong pressure or even spray softly by adjusting the pressure control setting.
All the Stanley models are made with powerful engines. This is how they try to distinguish themselves from other competitors. Most of them have Kohler engines, which are known to be vastly durable and very powerful. One example would be the Fatmax Gas Pressure Washer which happens to be one of the strongest on the list and also one of the Best Stanley Pressure Washers I have come across. I'll talk more about this model later on.
Stanley Pressure Washer Warranty Guidelines
Just like all the Stanley pressure washer models, there is a warranty available just in case some of the parts are not working well (such as the engine or the pump). You can replace those parts or replace the whole machine itself, depending on the condition and situation.
Of course, there are guidelines that you have to follow if you want to avail of the warranty. Here are a few guidelines to take note of:
If you register the product with the Stanley tools website, you get the 3-year guarantee. If you don't, you still get the 1-year guarantee. All the other general guidelines apply.
What To Do If Water Doesn't Come Out From Your Stanley Pressure Washer
When this happens, the usual causes would be a problem with water flow. In order to check this, you have to check where the water is being blocked. You can do this in the following steps:
Conclusion
If you want to thoroughly clean your house, family vehicles, or your porch, you'll need a reliable Stanley pressure washer to do the job. We've provided 6 best models for your preference. Out of the 6 choices, we'd have to say that the best Stanley pressure washer for total cleaning would be the Stanley Fatmax Gas powered pressure washer.
This is the ultimate choice, especially if you intend to do medium to tough cleaning duties at home. While it does use gas and is a bit expensive, it is extremely powerful and very easy to use. It has great features, enabling you to remove stubborn dirt without breaking a sweat.
Want to read more articles about pressure washer? Visit our website and learn the other top pressure washer brands in the market. Visit us https://pressurewasherguides.com.
TOP 5 most viewed articles in month
In compiling a top-5 list of this month's most popular articles: