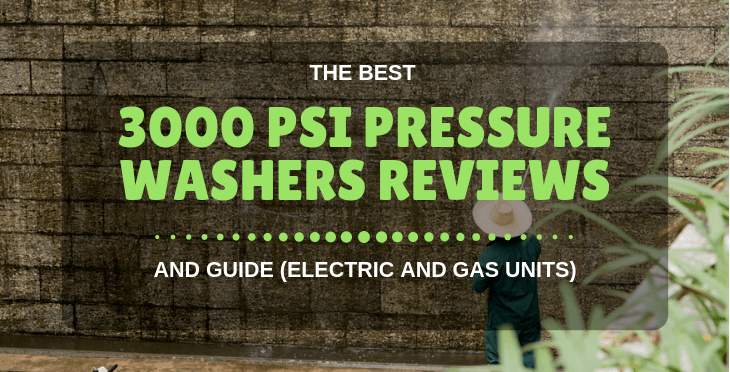 Best 3000 PSI Pressure Washer Reviews 2020
If you buy an item via links on this page, we may earn a commission. Our editorial content is not influenced by commissions. Read the full disclosure.
If you have a hard time deciding which pressure washer to buy, then just go for something in between. And that would be the best 3000 PSI pressure washer!
Sometimes, we just can't decide which pressure washer type to buy: electric or gas? Also, we need to decide which PSI level to choose.
If you have a hard time choosing the best pressure washer for you, the best move is to find a unit that is versatile and multi-functional.
There are actually a lot of pressure washer options in the market today which can be used in various cleaning applications. So, whether you are looking for a cleaner that is gentle enough for washing cars or you want a powerful unit to handle stubborn dirt and grime, the best 3000 PSI electric and gas pressure washers are excellent cleaners to start with.
The Comparison Table: 3000 PSI Pressure Washer Reviews
Check Out The Comparison Table Below For A Quick Run Through Of The Best Units On The List!
| | | | |
| --- | --- | --- | --- |
| | | | |
| | Yamaha 3000 PSI Gas Pressure Washer | | |
| | | | |
| | | | |
| | | | |
| | | | |
3000 PSI Gas Pressure Washer (6 Best Value)
Want to know your best options for 3000 psi gas pressure washer? Check them out below:
Simpson 3000 PSI Pressure Washer Review
#1 Simpson Cleaning MS60763 MegaShot 3000 PSI Gas Pressure Washer
If you want a heavy duty 3000 psi pressure washer, then Simpson Cleaning is a brand that you should definitely consider.
The MegaShot 3000 psi from the Simpson Cleaning brand is a great choice for 3000 psi gas category.
This makes use of a KOHLER engine that produces a maximum cleaning power of 7,200 CUs. Well, that is because of its 300 psi and 2.4 GPM flow rate.
---
#2 Yamaha 3000 PSI Gas Pressure Washer
Yamaha 3000 psi gas pressure washer is also a powerful gas cleaner but with a more compact and lightweight design as compared to the Simpson MS60763 MegaShot machine.
Want a more compact yet heavy-duty gas 3000 psi pressure washer?
This is the best pressure washer for you!
Powered by 3000 psi and an impressive 2.8 GPM flow rate, you'll have a maximum cleaning power of 8,4000 CUs. Isn't that amazing?
---
#3 Powerstroke PS80544B 3000 PSI Gas Pressure Washer
A versatile 3000 psi pressure washer cleaner is what Powerstroke PS80544B is known for. It's a great power cleaner for residential purposes that is equipped with great features.
It is powered by 3000 psi and 2.5 GPM flow rate. Moreover, it has a compact and modern design that a lot of people seems to love.
DEWALT 3000 PSI Pressure Washer (or 3200 PSI)
#4 DEWALT Commercial Pressure Washer 320
Most people who seek a commercial 3000 PSI pressure washer usually go for a well-known and a trusted brand. Dewalt is one of the reliable pressure washer brands you find in the market that offers a wide range of units.
One of the best-selling Dewalt Pressure Washers is the 320 Commercial model. This is a 3200-PSI power washer machine with high performance and maximum water pressure.
---
Karcher Pressure Washer 3000 PSI
#5 Karcher G3000X Gas Pressure Washer, 3000 PSI, 2.4 GPM
This amazing gas pressure washer is a popular unit from Karcher. Known for being robust and powerful, the Karcher G3000X is the ideal power washer to use if you seek easy cleaning with reliable performance with 2.4 GPM water flow.
People love the unit's look and features that really make cleaning tasks as easy as 1-2-3. If you are curious as to what makes this a great choice, check the best features below.
---
Generac 3000 PSI Pressure Washer
#6 Generac OneWash 3,100 PSI 70191 Pressure Washer
Another great option for 3000 to 3200 PSI pressure washer category is the Generac OneWash 3100 PSI. This is a well-loved pressure washer unit because of its ergonomic design, thus allowing you to complete your cleaning tasks with ease and no back pain.
If convenience and performance are what you need from your pressure washer, then we highly recommend this model for you.
Ryobi 3000 PSI Pressure Washer
If you haven't known yet, Ryobi 3000 PSI power washer has been one of the talks of the town lately. This is because Ryobi claimed that this product is the result of 50-hour research in which the pressure washer is tested in various cleaning applications.
This is a gas-powered washer with a Honda engine; thus, it matches well with any heavy-duty jobs you have at home. Some of its noticeable upgrades include heavier weight (due to the engine), oversize wheels so that it Hs more traction while in use, and a longer hose of 35-feet, which is 40% longer than the other Ryobi pressure washer models. See update here.
The Verdict
So, which 3000 psi pressure washer is the best option?
Well, the answer is actually subjective. It depends on your cleaning needs. If you need more power, go for the 3000 psi gas pressure washer. And the best choice for me is the Simpson Cleaning MS60763 MegaShot. Yes, it's bulky but the power and efficiency it offers are unmatched.
On the other hand, for the best 3000 psi electric pressure washer, I'd recommend the Rendio 3000 psi electric pressure washer​. This is the hottest 3000 psi cleaners at the moment. It's compact yet powerful and easy to use.
TOP 5 most viewed articles in month
In compiling a top-5 list of this month's most popular articles: