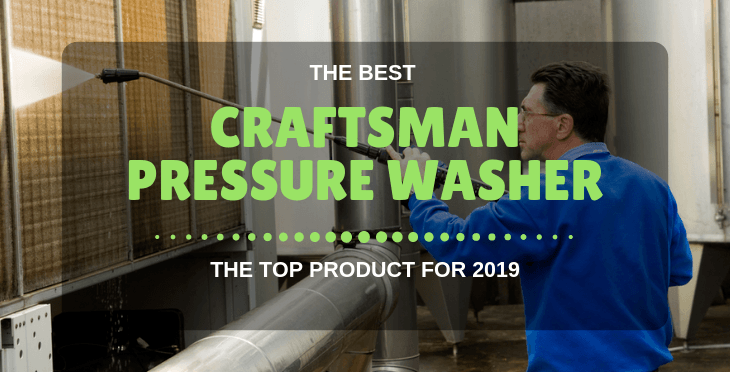 Best Craftsman Pressure Washer Review 2020
If you buy an item via links on this page, we may earn a commission. Our editorial content is not influenced by commissions. Read the full disclosure.
Thinking of buying a Craftsman pressure washer? Check out what to expect from the brand and find out the best Craftsman pressure washer for 2020!
If you search the best medium-duty pressure washers online, chances are Craftsman may or may not be included on the list.
But why? Now, here's what I find out:
Craftsman is actually listed as one of the reputable brands of power tools and outdoor equipment. However, for some reasons, the Craftsman pressure washer reviews are inconsistent. Some users are happy with their purchase and some are disappointed.
There are two reasons for this. Firstly, most of the complaints are targeted at Craftsman pressure washer gas units. Secondly, Craftsman pressure washer parts replacement through a third-party seller is a hassle process.
Comparison Table: 3 Best Craftsman Pressure Washer
| | | |
| --- | --- | --- |
| | CRAFTSMAN CMXGWAS021021 2800 PSI, 2.3 GPM Gas Pressure Washer Powered | |
| | Craftsman 2050 PSI 1.4 GPM 2 In 1 Electric Pressure Washer | |
| | CRAFTSMAN 020579 2800psi 2.3 GPM Gas-Powered Pressure Washer | |
So, what does this imply?
This means that if you are looking for a reputable brand of medium-duty electric pressure washers, then Craftsman is still a good brand to consider. For the gas units, I don't recommend this one. In addition, make sure to order your unit straight from the company itself or from Craftsman pressure washer Amazon so that you can be assisted in the replacement process.
Since most users (including me) are only impressed with the electric pressure washer units from Craftsman, the guide and review in the succeeding sections below are only limited to the electric pressure washers.
Best Craftsman Pressure Washer Reviews
What to Expect From a Craftsman Pressure Washer
Curious as to how the best Craftsman pressure washer electric units perform?
Craftsman pressure washers are known for its efficiency and versatility when it comes to handling medium-duty cleaning jobs. Users of the unit reported that the machine works well in various household cleaning chores, from light cleaning to deep cleaning of the deck, patio, and concrete floor.
It can tackle outdoor cleaning tasks, but it's not the best option for rigorous cleaning of large areas like fields, courts, and for cleaning of heavy equipment.
As mentioned earlier, Craftsman electric pressure washers are suitable for medium-duty cleaning only. You can expect the unit to have a total cleaning unit between 2,200 CUs to 3,000 CUs. Its popular electric pressure washer machine has 2050 psi and 1.4 gpm flow rate.
Most electric units from the brand are equipped with essential Craftsman pressure washer attachments and features such as the 25-feet pressure washer hose, a quick-release cord hook, detergent tank for foam washing, and 5 quick-connect nozzle tips.
Just like the other well-known electric pressure washer models, Craftsman electric pressure washers also have the Total Stop System, which helps prolong the pump's life by setting the pump into "stop mode" when the unit is at idle.
For the electric units, the noise level is toleratable as compared to the gas pressure washers. However, the proximity of the user to the machine should also be considered. Nevertheless, users of Craftsman pressure washer electric start are not bothered by the slight noise coming out of the machine when in use.
Craftsman Warranty Policy
Most Craftsman products are advertised with an unlimited lifetime warranty service. This warranty program was popularized by Sears when they start selling the Craftsman pressure washer line in the 1920s.
This unlimited lifetime warranty is actually applicable to Craftsman hand tools only. This warranty program doesn't include pressure washers and other tools that can wear out over normal use.
Craftsman pressure washer warranty program is usually a 2-year limited service. Still, make sure to read the Craftsman pressure washer manual just in case your unit is under a special warranty program.
Best Craftsman Gas Pressure Washer Reviews
Best Craftsman Electric Pressure Washer Reviews
This is a medium-duty electric pressure washer with a psi level of 2050 psi and a flow rate of 1.4 gpm, thus giving you a total cleaning power of 2,870 CUs. In fact, this is perhaps the most well-loved electric model from Craftsman, after garnering good reviews online.
Conclusion
Despite the inconsistent Craftsman pressure washer reviews, I am still convinced that Craftsman is a good brand of electric pressure washers. The 2050 psi electric pressure washer, in particular, offers the best value to your money when it comes to household chore cleaning.
Also, Craftsman pressure washers are reasonably priced. Thus, homeowners on a budget are happy to purchase the power washers from the brand.
Have you tried using a Craftsman electric pressure washer before? How was it? Share your experience below!
TOP 7 most viewed articles in month
In compiling a top-5 list of this month's most popular articles: