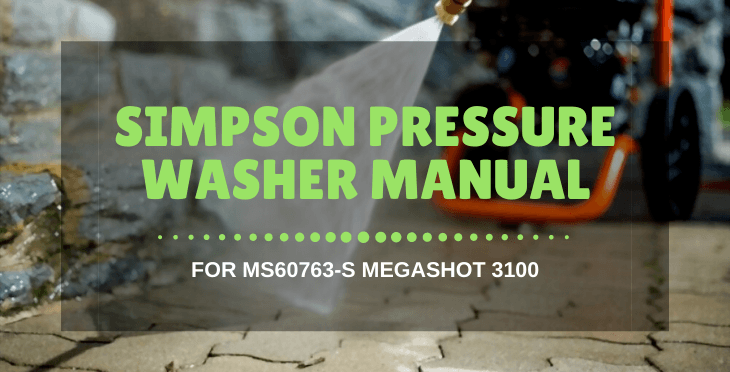 Simpson Pressure Washer Manual (Updated 2021)
If you buy an item via links on this page, we may earn a commission. Our editorial content is not influenced by commissions. Read the full disclosure.
Easy to move, portable, and built to last – learn why users of MS60763 MegaShot 3100 say these and more in our Simpson Pressure Washer Manual guide!
Honda engines seem to be the favorite by many Simpson Cleaning pressure washer patrons. Honda engines are known to be efficient and powerful in their performance and really durable. That is why many would recommend reading the Simpson Cleaning MSH3125 MegaShot Gas Pressure Washer manual.
But what if your cleaning applications do not require such cleaning power?
Do you have other alternatives? Something less expensive yet also efficient in smaller cleaning tasks?Indeed! There is.
In our Simpson Pressure Washer Manual Guide below, we will discuss the pros and cons of the most coveted 3100 PSI pressure washer from Simpson Cleaning – the MS60763-S MegaShot pressure washer.

Curious why customer reports recommend this one?
Simpson Cleaning MS60763-S MegaShot Pressure Washer
This pressure washer is also Simpson Cleaning's best-seller. It's a gas-powered power washer with a cleaning unit of 7,440 CU, making it a reliable medium-duty pressure washer.

Unlike most of the Simpson Cleaning medium-duty units with HONDA engines, this one utilizes the Kohler RH265. This engine is reviewed as a premium residential engine. And compare to the MSH3125 MegaShot unit, it has a smaller height but a bit heavier. To be specific, it has a dimension of 34 x 20.5 x 24 inches (LxWxH).
What Do Customers Have To Say?
In most customer reports, a lot of people are happy with their purchase. Overall, it has a rating of 8/10, which is pretty decent. While some are not happy with its design flaws and strong vibration when used at the highest pressure, others also cannot deny that it's a versatile cleaning machine.
Users love the fact that it has various cleaning applications, from residential use to vehicles and paint preparation jobs. It is also backed with amazing limited warranty service, which is what people love about Simpson Cleaning.

And if you actually buy it from certain membership stores like Sam's Club, you might score an excellent discount or entitled to a purchase protection plan.

FAQs About Simpson Pressure Washer Manual 3100 PSI
It is an excellent pressure washer for residential use but not so much for commercial use. If you want a more powerful pressure washer, you can try the ALH3425 model with Honda GX200 engine.
It is approximately 64 pounds, around 9 pounds heavier than the other best-selling MegaShot MSH3125 model at 55 pounds. However, this is easy to use and can be transported easily.
It refers to the safety device which is similar to the thermostat. In other words, it helps control the temperature of the water inside the pump by releasing a gush of water.

That is why it is recommended to pull the trigger for 2 minutes only and then release it to avoid damaging the thermal relief valve.
This is made from the United States of America.
You may purchase it directly from Simpson Cleaning website or from Amazon. If you are a member of Sam's Club, you can also find Simpson Cleaning pressure washers there.