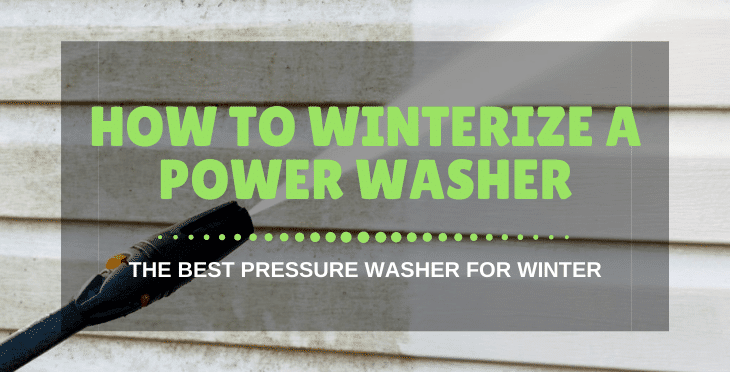 How To Winterize A Power Washer (Quick Guide)
If you buy an item via links on this page, we may earn a commission. Our editorial content is not influenced by commissions. Read the full disclosure.
Pressure washing trucks in winter is possible if you use the right machine. Read our guide on how to winterize a power washer and the best washer to buy!
In most cases, pressure washing is avoided during the winter season. Many would opt to wait for spring to start cleaning their sidewalk and vehicles.
However, regardless of the freezing temperature, pressure washing trucks and your driveway is sometimes necessary. For instance, blasting away snow from your driveway is much easier than manually removing them with a shovel.

But does it damage the machine?
Low temperatures can indeed damage pressure washers but there are ways to prevent it from happening.

In this blog, we will discuss the important tips about how to winterize a power washer and the best pressure washer machine to use for this task.
How To Winterize a Power Washer: Important Reminders
1. Choosing The Right Lubricant
It is no secret that lubricant is a key factor to keep your pressure washer run smoothly, especially during winter.

Depending on the cleaning application, you can choose the best lubricant. For example, how to winterize a pressure washer with RV anti-freeze is useful for RV cleaning tasks while winterizing pressure washer pump is helpful for storing pumps in winter.

The things to look into when buying the best lubricant are anti-freeze and anti-rust. It is also preferable if the formula is non-toxic and biodegradable.

If your pressure washer brand sells their own antifreeze, then you are better of using their specific formula as it is made specifically for their pressure washers
2. Stabilizing The Pressure Washer The Right Way
Next is the stabilizing steps. It is important to follow the right procedure when stabilizing your washer.

Once you add your fuel stabilizer, it is mandatory to run the machine for a couple of minutes. Doing so will help the stabilizer flow through the pressure washer, thus coating the carburetor, orifices, and other internal parts.

Make sure you put enough stabilizer in your gas pressure washer and some pump saver into the water pump to keep them from freezing.

3. Proper Timing – The Best Time To Pressure Wash In Winter
While the cold weather is not the best condition to pressure wash your vehicles, it can still be done. Your best option is to wait for the proper timing. This means paying attention to the temperature of the day.
Ideally, you should use your pressure washer in the "warmest" time of that day, which is basically around mid-day (11am to 1pm). Another trick is to invest in hot water pressure washer at this time.

4. Storing The Pressure Washer In Winter
Lastly, storing your pressure washer in winter is as crucial as stabilizing it. Once you have diligently followed the antifreeze procedure, the next course of action to follow is proper storage.

Part of how to winterize a gas pressure washer is to put it in a heated area or the warmest room in your house. It is usually the room that is carpeted and has thick curtains and rugs around.

The Best Pressure Washer For Winter 2021
Briggs & Stratton ELITE3300 MAX PSI Gas Pressure Washer
We highly recommend this Elite pressure washer from Briggs & Stratton as it is equipped with the right features that help protect the machine in winter.
Firstly, this machine uses the triplex pump, which is well-known to be capable of handling heavy and corrosive fluids. Professionals give it two thumbs up when it comes to high-pressure applications.
Another essential reminder when winterizing a power washer is to start the engine after adding the stabilizer. That is why it really helps if the machine starts easily. Luckily, you won't have a problem with the ELITE3300 MAX pressure washer as it is easy to start and runs like a champ!