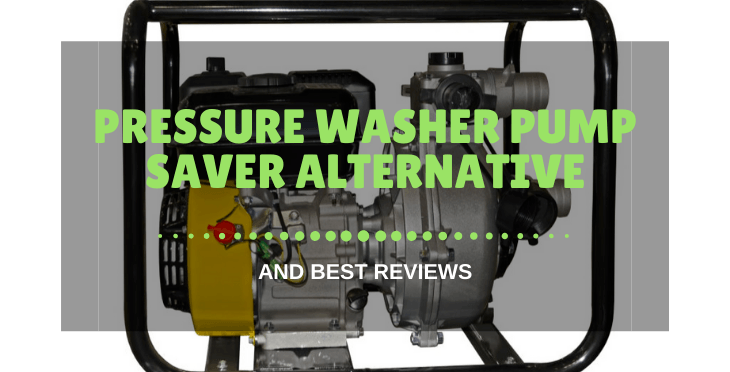 Pressure Washer Pump Saver Alternative and Best Reviews
If you buy an item via links on this page, we may earn a commission. Our editorial content is not influenced by commissions. Read the full disclosure.
​The winter season is when you need to invest in a good pump saver to protect your pump. Know the best pressure washer pump saver alternative and reviews now!
​I know you've heard about the importance of protecting your pressure washer from extreme conditions like winter.
​However, sealing it and putting a cover on it are not enough. You also have to protect the inside, which includes the engine and pump of the machine.
​This is when pressure washer pump saver comes into the scene.

​What Is A Pressure Washer Pump Saver?
​This is actually just as the name entails-- a liquid that you need to put into the machine's pump to protect its part from the extremely low temperatures. This is a very important process of what others called as winterizing pressure washer pumps.

​It acts as an antifreeze and anti-corrosion protection liquid that needs to reach in all nooks and crannies of your pressure washer pump to protect it.

​Since the pump is extensively exposed to water, drying and emptying the pump means some deposits are left behind. And when left there, these can freeze and cause damage to the pump.
Pressure Washer Pump Alternative
​But what if you don't have the specific pressure washer pump saver? Or maybe, you don't have enough pump saver to put in your pump?

​Is there any alternative that you can use?
​Sure there is. Though this alternative is only recommended for short-term and emergency use. You should definitely invest in a good pressure washer pump saver.
​So what is the best pressure washer pump saver alternative?
​A lot of people say a mixture of pump saver or regular antifreeze (choose the non-toxic variant) and canola oil really works. The oil doesn't even have to be new, you can save all the used canola oil in your kitchen instead.

​If you use a regular antifreeze, you should follow an 80/20 ratio, which is 80% antifreeze and 20% canola oil. Mix these two thoroughly, then apply it to your pressure washer pump.

​Don't forget to let the pump run and allow the mixture to run through all parts of the power washer.
​Best Pressure Washer Pump Saver Reviews
​I've already explained the importance of the pump saver, as well as the best alternative mixture to use.

​Now, let's discuss the best pump saver that you can get from the market today:
#1 ​Briggs & Stratton 603375W90 Pressure Washer Pump Oil
​This Briggs and Stratton pump oil is praised by many patrons. Its synthetic oil formula is especially formulated to keep your pressure washer pump running.

One bottle is 15 fl oz and has an easy fill neck that also makes it easy to pour into the pump. I personally love the fact that this pump saver oil formulation has high endurance and is mess-free.
---
#​2 CAT Pumps Pressure Washer Oil
​On the other hand, if you are specifically looking for the best pressure washer pump saver for CAT pumps, then I highly suggest you get this one.
The CAT Pumps Pressure Washer Oil is renowned for its reliability and efficiency when it comes to protecting the CAT pumps from corrosion and freezing.
For one, this pump oil is well-loved because of its multi-viscosity and petroleum-based hydraulic lubricant formulation.

​If you want a product that can give you what your money's worth is, then this is the best pick for you.
​Preserving the condition of your pressure washer machine is part of its holistic maintenance. Investing in pump saver or pump oil is obviously a smart decision.