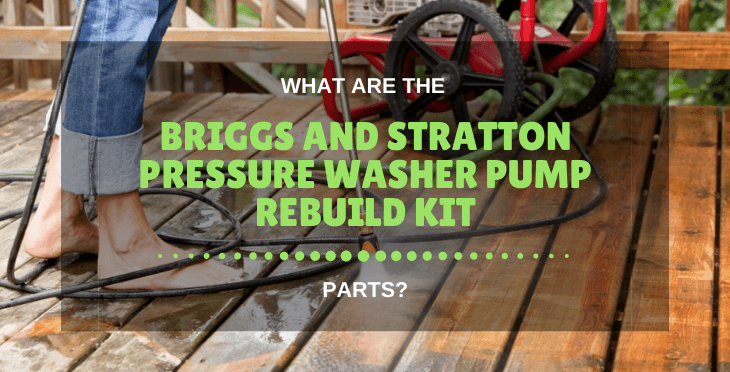 Briggs And Stratton Pressure Washer Pump Rebuild Kit
If you buy an item via links on this page, we may earn a commission. Our editorial content is not influenced by commissions. Read the full disclosure.
Can you fix your old Briggs and Stratton power washer pump? Sure you can, as long as you have a Briggs and Stratton pressure washer pump rebuild kit.
Briggs and Stratton is a very well-known pressure washer brand that's known for its power and durability. Of course, even a top tier pressure washer is still not fully immune to wear and tear.

That said, worn out parts will need to be replaced by new replacement parts. In that case, a Briggs and Stratton pressure washer pump rebuild kit is going to be very useful.

So, what are some of the parts that are usually needed to rebuild an old pressure washer?

We have here a short power washer parts manual that can list down all the necessary pump parts as well as their functions.

Check them out below if you want to do a full pressure washer pump replacement:
What Are The Briggs And Stratton Pressure Washer Pump Rebuild Kit Parts?
This part ensures that the pressure washer is performing at its optimal state.
This is the pump hardware that you will use in order to replace the frame of your existing, worn out pump.
Circulates the flow of water in one direction so there is no backflow.
This stops the oil or whatever liquid from leaking out of the machine.
The pressure washer seal or inlet seal is used for keeping the water from leaking out when the hose is attached to the pressure washer.
This ensures that the water does not continue spraying out when the hose is no longer connected to the spray gun.
This ensures that the water flow is diverted from the outlet to the inlet so that the water keeps on circulating from the pump to the nozzle.
When you get a repair kit, these are some of the parts that you'll need to remember since these are the ones that you'll need to replace anyway.

Briggs And Stratton Pressure Washer Pump Safety Tips
Now that you know the important parts of a Briggs and Stratton pump replacement kit, it's also important to know about the various safety tips that go with it. You'll need this because pumps can be dangerous if not handled properly.

If you want to avoid any harm, it's prudent to take note of some safety tips that we'll share below:
The first and foremost thing you should do is read the manual. The manual not only contains all the parts needed for pump replacement but also instructions on how to take the pump apart and change it. So never ignore the manual.

Make sure that you turn off the machine completely before you do the pump replacement. This is to ensure that you don't accidentally spray yourself or spray anyone else in the process.

This is another very important safety tip that you need to note. A lot of people usually just change one part without realizing that other parts may also be damaged. So, if you're going to change one part, might as well check all parts; otherwise, your machine might be even more damaged in the long run.

Usually, a pump wears out from overuse or from being exposed to harsh cold weather conditions. That said, you may want to protect your pump so thatyou won't have to change the parts every so often. You can use G Protect to keep your pump in good condition.

Conclusion
For those who need to have their pump replaced, you'll need to have a Briggs and Stratton pressure washer pump rebuild kit ready.

But before that, you need to make sure that you know the parts that are needed for this kind of job. Next, you need to observe some of the safety tips required when you're replacing your pump.

That's why this guide is sure to help you replace your worn-out pump with a brand new one.

If we've missed out any other important parts, we'd love to hear what you think in the comments section below. Also, don't forget to share this article with your friends.
We hope you learned a great deal from this article and have a good day!