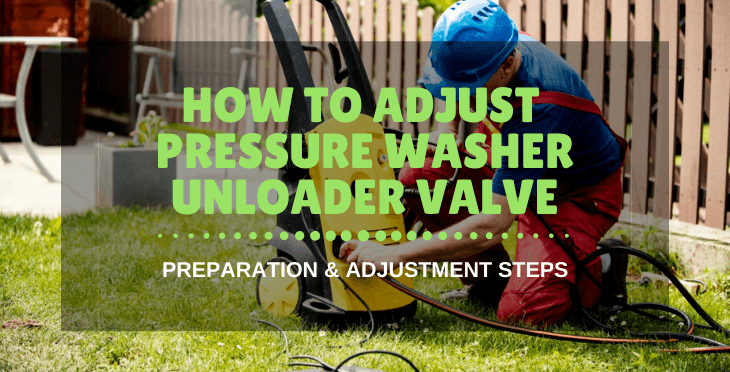 How To Adjust Pressure Washer Unloader Valve?
If you buy an item via links on this page, we may earn a commission. Our editorial content is not influenced by commissions. Read the full disclosure.
​You need to know how to adjust pressure washer unloader valve, so you can properly regulate the pressure inside your pressure washer. Here's how to do it.

​The unloader valve is one of the most important parts of a pressure washer because it controls the pressure of your machine. And obviously, the pressure is what makes the water come out at that kind of strength.

​If you want your machine to work the way you want it to, you need to know how to adjust pressure washer unloader valve.

​If you don't know how to adjust one, then this guide is perfect for you.

​Here are the steps on how to do it:
​What Is An Unloader Valve And How Does It Work?
​Before we go to the steps on how to adjust your unloader valve, it's important that you need to know what an unloader valve is and what its purpose is. The main purpose of the unloader valve is to simply direct the water to the pump so that it can move to the hose and blast out of the spray gun.

​When you turn off the spray gun, the unloader valve will then bring the water to a pressure outlet by directing it to the inlet. This is of importance to your pressure washer because the unloader valve circulates the water around the pressure washing system so that no excess water gets out.

​Why Do You Need To Adjust The Unloader Valve?
​Now, adjusting the unloader valve is a pretty different story to knowing how it works. Why do you need to adjust it, anyway?

​Doesn't it just move by itself when you turn your machine on and off?

​Sure, that may be true, but that's not exactly the whole picture.

​You see, pressure washers are set at an extremely high pressure such as 3600 PSI. That's extremely strong and may damage some objects in your home such as your windows and your car. At the same time, you'll need that kind of high pressure to clean up the flooring of your porch or your basement. You'll also need that strength to clean your roof and your home walls.

​Of course, it's extremely impractical to buy two kinds of machines so that you can cater to two different purposes. It's better to just learn how to adjust the pressure so you can adjust it to fit the type of cleaning job you need to do.
​So now that you know how important unloader valve adjustment is, let's go on to the actual steps on how to do it.

​How To Test Your Adjust The Unloader Valve?
​Conclusion
​Sure, adjusting your unloader valve may take a bit of time to do (14 steps in particular), but it's something that you need to learn. If you're going to switch from one job to another, you need to learn how to adjust pressure washer unloader valve so that you can change the pressure.

​We hope that you enjoyed this article. If you learned something, then share this with your friends or leave a comment.