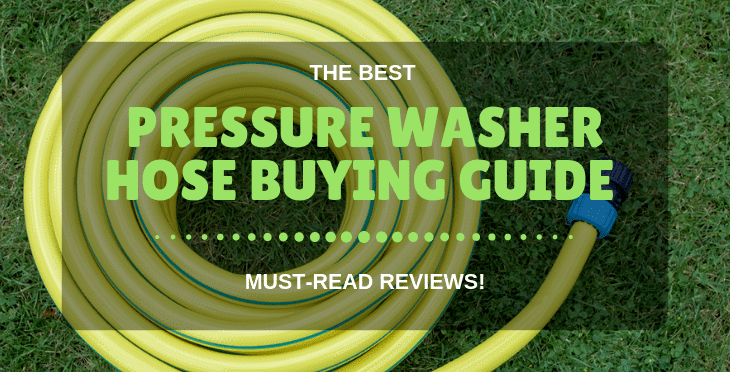 Best Pressure Washer Hose Reviews 2020
If you buy an item via links on this page, we may earn a commission. Our editorial content is not influenced by commissions. Read the full disclosure.
You can't use a pressure washer without a hose. Here, I've listed 6 best pressure washer hose options that are known for their quality. Check them out now!
So, you bought a brand new high PSI pressure washer and decided to just use your old garden hose as an attachment rather than buying a new best pressure washer hose.
Thinking you're all set to work, you started the pressure washer but found out that the water coming out of the hose is only about 50 PSI. Oh no! The pressure was just too low to clean your driveway and patio. So, you blamed the brand new pressure washer you just bought; and claimed you've just been scammed.
This is quite a common scenario among newbies or first-timers who don't know that much how a pressure washer works. The problem here is not the pressure washer; it is the mismatch of high PSI pressure washer and the average garden hose that is usually suitable for low-pressure watering.
Professionals understand that the best pressure washer hose plays a significant role so that the pressure washer can operate at its best. That is why, in this article, I've compiled the 6 best pressure washer options in the market recently so that you'll have an informed buying decision.
Every Thing You Need To Know About Pressure Washer Hose
Quick Look: 6 Best Pressure Washer Hose
| | | | |
| --- | --- | --- | --- |
| | Schieffer Co. 646200098 Pressure Washer Hose | | |
| | Simpson Cleaning 40226 Pressure Washer Hose | | |
| | Sun Joe SPX-25HD Pressure Washer Extension Hose | | |
| | Simpson Cleaning 41030 Pressure Washer Hose | | |
| | JGB Enterprise Eagle Wash Pressure Washer Hose | | |
| | Briggs & Stratton 6188 Pressure Washer Hose | | |
Pressure Washer Hose Buying Guide
Just like any other pressure washer accessories and attachments, you need to know the important factors to consider when buying the best pressure washer hose for your pressure washer machine.
Below are the 4 important considerations:
You either get a long or short hose as long as it can reach the areas you intend to clean. Most professionals recommend getting both 50-feet and 100-feet hose. Anything longer might cause accidents such as tripping over a twisted hose.
The three common pressure washer hose materials are PVC, Polyurethane, and Rubber. The PVC is the cheapest choice, but seasoned pressure washer users don't recommend this one as it is not flexible and can easily get tangled.
If your budget allows it, choose either the Polyurethane or the rubber hose. The rubber material is great for long hoses as it is more flexible and kink-free. The Polyurethane, on the other hand, is most professionals' choice because it is flexible and durable. Unlike the rubber, this one doesn't mar easily.
Aside from the length and material, you need to consider the diameter of the hose as well. You can choose from three common size choices, namely small (¼ inches diameter), medium (5/16 inches diameter), and large (⅜ inches diameter).
For pressure washers with less than 2700 PSI, use a pressure washer hose with small size diameter. Use the medium size for pressure washers with 2700 PSI to 3400 PSI. Lastly, the large size diameter hose is ideal for high PSI pressure washers, especially those pressure washers used in a commercial-grade level.
You might argue that connections are not important, but I'll tell you that connections are a must if you want your pressure washing experience to be hassle-free.
Usually, pressure washer hoses have two connections; one is connected to the pump whilst the other one is connected to the spray gun or wand. Hose connections are usually made of steel, brass, or plastic.
The most important thing is that the connections of your hose fit the connections of the pump and the spray gun. When connecting with the pump, you can either snap or twist them together. However, when connecting with the spray gun, you need to check the thread. For instance, if the gun has the male thread, then it is possible to connect it with ordinary pressure washer hoses with an M22 threaded connector.
6 Best Pressure Washer Hose Reviews
#1 Schieffer Co. 646200098 Hose
Schieffer Co. is one of the most trusted and popular company that design, develop, and sell pressure hose solutions. Thus, it is no wonder why a lot of pressure washer hose reviews include products from this brand.
With a 50-feet length and 3000 maximum working pressure under its belt, this Schieffer Co. 646200098 Pressure Washer Hose is great for medium-duty cleaning.
---
#2 Simpson Cleaning 40226 Hose
Simpson is yet another reliable pressure washer hose brand in the market. With the universal M22 fittings that have a dual O-ring design, you can connect this hose to both 14mm and 15mm connections.
This is also 50-feet long, a perfect length for driveway and patio cleaning. The Simpson Cleaning 40226 Pressure Washer Hose is also light and easy to use.
---
#3 Sun Joe SPX-25HD Extension Hose
I cannot think of other cheapest and most versatile pressure washer hose in the market other than Sun Joe. Sun Joe is undeniably one of the most budget-friendly brands there is.
This Sun Joe SPX-25HD Pressure Washer Hose is an extension hose that is suitable for quick pressure washer cleaning. The hose is 25-feet long, which you can easily connect to your existing pressure washer hose, whether it is also a Sun Joe pressure washer or that from another brand. You can use this hose to any pressure washers with 2900 PSI and below.
---
#4 Simpson Cleaning 41030 Hose
Introducing another best pressure washer hose by Simpson Cleaning, the Simpson Cleaning 41030. If you want a medium-duty pressure washer hose that has a reliable quality, then look no further than Simpson Cleaning.
This hose is by far the longest on the list with a total length of 100 feet. It also has the highest working pressure with 4500 PSI.
---
#5 JGB Enterprise Eagle Wash
I am not at all familiar with the JGB Enterprises; hence, I am a bit hesitant whether this brand is a good one to recommend. But a quick search on the web is what it takes to change my mind. JGB Enterprises is a hose assembler of hydraulic and industrial hoses. They assemble any type of hose for all applications.
In fact, this JGB Enterprise Eagle Wash Pressure Washer Hose can handle high-temperature pressure washing, a perfect fit for commercial use. Quality wise, this one is a strong contender.
---
#6 Briggs & Stratton 6188 Hose
Briggs & Stratton is another popular brand of outdoor power products including pressure washers and pressure washer hoses. This hose by Briggs & Stratton is 30-feet in length but is also available in other lengths should you want a shorter or longer hose.
However, please note that Briggs Stratton 6188 hose is best used as a replacement hose for worn and damaged hoses. This can handle cold water pressure washing only and is ideal to use with electric pressure washers.
Is It Safe to Use High Pressure Hose?
High pressure water hoses are safe if you know how to use it. Do remember that these hoses are stronger than high pressure garden hoses, so you'll need to take note of a few things. First, you need to make sure that you read the manual carefully so that you know how to properly use it.
You also need to make sure that you wear protective gear such as goggles, gloves, and steel-toed shoes. You may also want to wear strong pants and some earmuffs.
Another thing that you need to do is to be careful with the zero0degree high pressure hose nozzle. This is the most dangerous nozzle out of all available nozzles simply because it's the most concentrated sprayer. You rarely will need to use this nozzle, so you can just toss it in the storage meanwhile.
You must also make sure that you don't use your high-pressure hose while on a ladder. If you do, the recoil can push you backward causing some injuries. Also, never point the hose at anyone or anything. The sheer power can injure people in the area or damage some belongings.
As long as you observe all of these safety rules, you shouldn't be too worried about using your high-pressure hose with a pressure washer.
Pressure Washer Hose Repair
What if your pressure washer hose isn't performing like usual? That means there's a problem that needs to be addressed. In this section, we'll be talking about how to do a quick pressure washer hose repair in the event that your extension hose isn't working.
Step 1:
Make sure that the pressure washer isn't plugged into any electrical outlet. Also, make sure that all power is cut so that the pressure washer isn't running.
Step 2:
Click on the hose trigger button to dislodge excess water that can be found inside the hose.
Step 3:
If you noticed a leak in the hose attachment, look for the hole somewhere in the hose so you can detect the leak.
Step 4:
Get a pair of shears and cleanly cut across the hose on each side where the leak is.
Step 5:
Get your hose repair kit and secure some hose repair couplings and attach the male coupling on one end. Flatten the coupling and tighten the rings. Do the same thing with the female coupling on the other side.
Step 6:
Use a hose connector and connect the couplings with a wrench.
After you do this repair job, your hose should be working like it used to. If not, you may want to consider getting a pressure washer replacement hose instead.
Pressure Washer Hose Reel
You might be asking,
Do I really need a pressure washer hose reel?
The answer is quite subjective but in all honesty, this tool helps you organize your hoses, especially the longer ones. If you have been bothered by kinked, curved, and knotted hose all the time, then you will surely find a hose reel helpful.
Moreover, if you have a pressure washing business, having a hose reel proves to make the work faster and hassle-free. In fact, a lot of pressure washing businesses invest in an automatic pressure washer hose reel since it can store hoses correctly without causing damage.
Popular Types of Hose Reel
There are various hose reel types, but the most popular ones are the automatic electric-powered hose reel and the portable hose reel.
The automatic electric-powered hose reel is perfect for commercial and heavy-duty use, such as factories, pressure washing businesses, and other industrial uses.
Meanwhile, the portable hose reel is recommended for hose attachment at home. This is the go-to choice of most garden owners who love the hassle-free watering system in their gardens and those who frequently use pressure washers for home cleaning applications.
Pressure Washer Replacement Hose
Pressure washer hoses, no matter how expensive and durable they are, will wear out and leak in the long run. And many people think that they can fix a high pressure water hose the same way they fix an average garden water hose.
They are not the same thing, and it is recommended to replace an old or leaking high pressure garden hose immediately. This is because the high pressure of the water can make the patched leak burst open, causing injury to the one using it or damaging the objects nearby.
50 Ft Pressure Washer Hose - Top Pick
Twinkle Star Pressure Washer Hose 3000 PSI
This is definitely a reliable replacement hose that you can use in place of your existing hose. It has a pretty good pressure level of 3000 PSI and has a length of 50 feet, which is an adequate length to fit the average water hose reel.
One of the best things about this pressure washer hose is that it has high compatibility. It's compatible with most of the Sun Joe pressure washer units, as well as the units from other brands. It can also carry a max temperature of up to 140 degrees Fahrenheit.
Overall, it's a very reliable brand that you can trust.
100 Ft Pressure Washer Hose - Top Pick
NorthStar Nonmarking Pressure Washer Hose
If you're looking for overall length, then this is the washer hose that you may want to consider getting. As a whole, it reaches up to 100 feet and has a 4000 PSI rate. Aside from just length and pressure though, it is also known for its high durability.
To put it short, it has a very long shelf life and is highly resistant to abrasions. While it is very durable and sturdy, it is also pretty flexible. In fact, it does not kink at the connections because of the bend restrictors. You won't have any problem curling this hose up on your water hose reel.
Ryobi Pressure Washer Hose - Top Pick
Homelite High-Pressure Hose
This is another pressure hose that you can easily wrap around your garden hose reel. It's strong, flexible, and also very reliable. It is a little bit bulky because it has a wide diameter. That's a pretty good feature for this hose because it allows more water to go through it.
So, once your pressure hose starts to get a little faulty and you may decide to replace it, consider the Homelite High-Pressure Hose as your primary choice for a replacement. You'll surely be pretty satisfied with the performance the hose can give you.
Flexzilla Pressure Washer Hose - The Hottest Pick Right Now!
Flexzilla HFZPW3450M Pressure Washer
The reason why we picked this pressure washer hose as our top pick is because it has a balance of features that you'll want for your pressure washer hose.
With this hose, you don't need to worry about kinking or tearing because it is extremely flexible. It has a non-kink bend restrictor and is made out of premium Hybrid Polymer, making it very durable. It can be used with any retractable air hose reel.
Other than that, it can withstand hot water of 140 degrees Fahrenheit and has a max pressure of 3100 PSI. With all of these features, this product variant is undoubtedly one of the best that you can find in the market. That's why we chose it as the hottest pick right now.
Want To Know My Top Choice?
Firstly, the 50-feet length is enough for most cleaning tasks at home. You can already reach a lot of areas with this length. Secondly, Schieffer Co. wrapped all their pressure washer hoses with high tensile wire braided rubber, plus high-quality couplers. So, if durability is one characteristic you look for in a pressure washer hose, then you can get it with this Schieffer Co. 646200098 Pressure Washer Hose. Lastly, this has a 1/4-inches diameter, perfect for medium-duty cleaning that a semi-professional owner like me would love to use.
Frequently Asked Questions
1. What's The Best Size For The High-Pressure Hose?
As mentioned in the buying guide above, you need to consider the length and the diameter of the hose. The longer the hose, the more areas you can reach and clean whilst the bigger the hose diameter is, the more it can withstand high water pressure.
Professionals usually use a hose between 50 feet to 100 feet, depending on the task at hand. As for the diameter, it depends on the maximum working pressure it can handle and the PSI level of your pressure washer machine.
Use the small size diameter for light to medium-duty cleaning with working pressure of 2700 PSI and below. Use the medium size diameter hose for 2700 PSI to 3400 PSI, and the large size diameter for a higher pressure or PSI level.
2. What's The Difference Between The Pressure Washer Hose Vs. Garden Hose?
The main difference between a pressure washer hose and garden hose is the acceptable pressure it can produce and handle. The average garden hose does not produce enough pressure to clean stubborn dirt and stains that a pressure washer hose can easily do.
Furthermore, the best pressure washer hose can help you save more water as it can get rid of dirt, debris, and stains quickly and efficiently. Hence, you can also save money on electric bills.
You see, the pressure washer hose has a higher PSI than a garden hose. So, even if you use it with a high PSI pressure washer machine, you are confident that it can withstand the pressure and will not get damaged easily.
So, should you buy a pressure washer hose for pressure washing? Absolutely!
3. Can I Replace The Nozzle To Increase The Pressure Of My Garden Hose?
While nozzle attachments can help us control the volume of water coming out of the hose, they do not add to the total PSI level of the machine. If you are using a pressure washer machine with a maximum pressure of 3000 PSI, then expect that this is the maximum pressure that the hose can produce as well.
Remember, you need to match the working pressure of your hose to that of your pressure washer machine
Pressure washer nozzles only let you adjust and manage the flow and angle of the water coming out of the hose. The top 5 nozzle attachments are zero-degree, 15-degree, 25-degree, 40-degree, and 65-degree also known as the soap nozzle. These nozzles allow you to adjust the angle of the water depending on the cleaning task you intend to do.
4. Is It Safe To Use Pressure Washer Hose For Hot Water Pressure Washing?
Definitely! In fact, experts suggest you stick to pressure washer hose when doing high-temperature pressure washing. Some specific brands of pressure washer hoses can be used in both cold and hot water pressure washing. Just make sure you check the compatibility before making your final purchase.
Avoid using an ordinary hose for high-temperature pressure washing. This will only damage the hose as the material cannot withstand severe temperatures.
Conclusion
The pressure washer hose is indeed an essential part of a pressure washer machine. Thus, it is very important that you take the time to consider all the 4 factors above before buying. Remember to note all those considerations, namely: length, material, diameter, and connections.
I shared my best pressure washer hose option above. It's the best option for me, but it may not be the same for you. So, do your own assessment, check your needs, and choose the best pressure washer hose that can meet all your requirements.
Once you do that, share with us your favorite pressure washer hose or the one you are currently obsessing right now.
Thank you for dropping by and I hope you learned something valuable from this article. Have a great day!
TOP 5 most viewed articles in month
In compiling a top-5 list of this month's most popular articles: