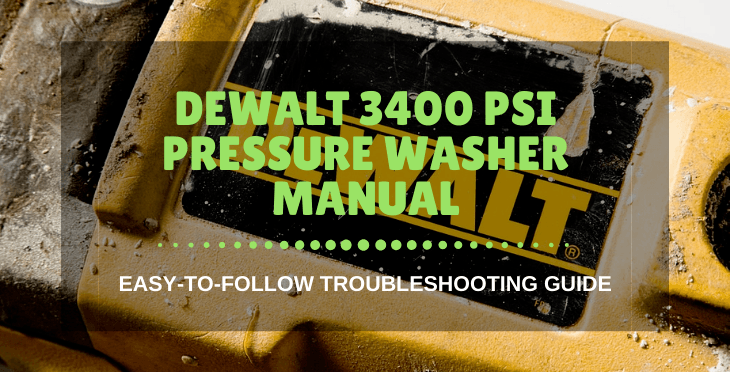 DeWalt 3400 PSI Pressure Washer Manual (Easy-To-Follow)
If you buy an item via links on this page, we may earn a commission. Our editorial content is not influenced by commissions. Read the full disclosure.
​Have a DeWalt 3400 PSI Pressure washer that doesn't seem to work? You need our DeWalt 3400 psi pressure washer manual to help you troubleshoot it for issues.
​DeWalt 3400 PSI pressure washers are quite hard to operate if you're not used to handling pressure washers.

​Fortunately, there are manuals that can help you in the event that something happens to your machine. If ever you find yourself at the end of a DeWalt 3400 PSI pressure washer that doesn't work, we'll provide you with DeWalt 3400 psi pressure washer instructions that can help you diagnose your machine.

​So, without any further introduction, let's get started with our DeWalt 3400 psi pressure washer manual.
​Introducing The Dewalt 3400 PSI Pressure Washer
​To kickstart our guide, we'd like to first introduce the DeWalt 3400 PSI pressure washer by enumerating some of the more important pressure washer parts.

​Knowing the different parts of your machine is extremely important because this knowledge allows you to pinpoint which area might be affected.

​Here are the parts you need to note:
​There are other specific parts that the pressure washer may have, but these are the most important ones to take note of. So, remember these parts when troubleshooting your machine.

​Now that we got that out of the way, we can move on to the DeWalt 3400 psi pressure washer troubleshooting guide.
​DeWalt 3400 PSI Pressure Washer Manual (Troubleshooting Guide)
​In this guide, we're going to list down 5 of the most common problems that you can experience with your DeWalt 3400 PSI Pressure Washer and the respective solutions on how to fix these issues.

​Take a look at them below:
​Pressure washers are known for their high-pressure water spraying abilities. If you find that your machine has low or no pressure at all, then something is definitely wrong somewhere.

​First, you should check the engine to see if it is running at full speed. If not, then switch it to FAST mode. Next, check if the pressure nozzle is the low-pressure kind or high pressure kind. Lastly, check if the water inlet is clogged. If it is, remove the debris.
​This happens when there is too much pressure building up in the spray tip. This is most likely caused by a clog. In order to address this problem, turn off the engine and press the trigger release.

​This releases any extra pressure in the machine. After that, remove the spray tip and clean off any debris that may be clogging the system.

​Pressure washers will usually spray out detergent mixed with water. But if the detergent doesn't seem to mix with the spray, then there is most likely a problem with the shut off valve.

​You need to make sure that the shut off valve is in the right position. If it is, then you need to check if the spray tip is created for spraying out detergent.
​Lastly, make sure that the pressure settings are at LOW; otherwise, you won't be able to spray out detergent.

​If you're experiencing leaks, then there is a big chance that your spray gun is damaged. If that is the case, you'll need to replace the spray gun. However, double check first where the leak is coming from.
​The last most common problem you may experience is that your pressure won't start at all. The first thing you need to do is replace the gas since old gas may be the problem. If not, then you need to check if any of the parts have corroded. Most likely it is the spark plugs.

​Conclusion
​Now, the whole point of this DeWalt 3400 psi pressure washer manual is not only to introduce you to the machine by listing down all the parts that comprise it, but to also show you the most common problems and how they can be solved.

​First time users of pressure washers may have a hard time figuring out how to fix their machine if they've never handled pressure washer before.

​So, if you happen to be a first-time user, then let this guide give you an edge. Bring it out the next time you have a problem with your DeWalt 3400 psi pressure washer.