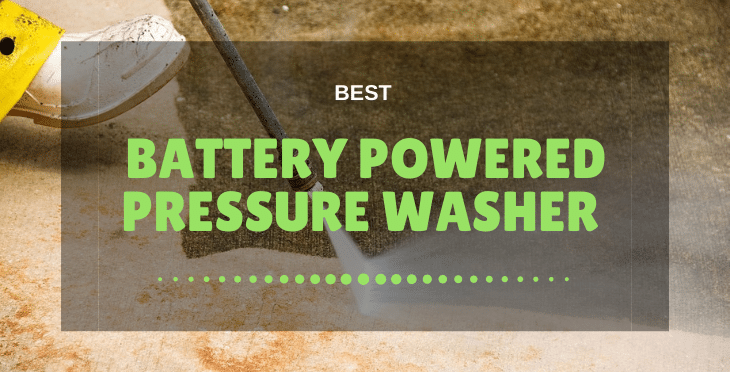 Best Battery Powered Pressure Washer 2020 Reviews
If you buy an item via links on this page, we may earn a commission. Our editorial content is not influenced by commissions. Read the full disclosure.
Speaking of pressure cleaners, the best battery powered pressure washer is usually the least preferred one. Is this really not worth it? Let's find out!

I've bought a couple of pressure washer cleaners in the past years, but none of them is battery-powered. Until lately, when I needed to clean and disinfect our driveway and garden pathways.
The length limitations of electric ones and the bulky structure of the gas-powered cleaners are not really ideal for outdoor cleaning applications.
So, I started to look into purchasing my first-ever best battery powered pressure washer, and below are my realizations:
What To Expect From Top Rated Battery Powered Power Washer?
When dealing with pressure washers, most people would check the PSI and GPM rating. These two are, more or less, the indicators of the maximum cleaning power of your power washer.
This is especially true for portable pressure washers. Unlike the gasoline or the electric pressure washers which have some added features to boost cleaning performance, the cordless models must heavily rely on their Psi and GPM levels.
Most battery pressure washers hover at 200 to 300 PSI and have a flow rate of 0.5 GPM. Fortunately, because of some advancement of technology, the best battery-operated pressure washers nowadays can reach up to 800 PSI and 1.0 GPM flow rate.

Therefore, you can expect around 350 to 800 cleaning power for this cordless cleaning tool.

Since we already know the cleaning capacity of a battery powered pressure washer, it is now easier to understand the suitable cleaning applications for the tool.

Obviously, this cannot be used for heavy-duty tasks, not even for medium-duty ones. This is only good for light-duty cleaning tasks. To be specific, most battery-operated pressure washers are used as an alternative when cleaning outdoors.

You know when your fence is way too high or some garden nooks your electric washer can't reach? This makes a pretty cool tool to use.
Another reason why I think a battery-operated pressure washer is worth investing, especially for home use, is the fact that I always have to do a quick clean-up to my car in the driveway. Hauling a gas pressure washer is just too time-consuming and I find using this cordless version a lot more convenient.

Best Battery Powered Pressure Washer Reviews 2020
If you have decided to go ahead and buy one for emergency outdoor cleaning (which is my case), then I will now proceed to sharing with you my personal pick.
Here are my favorite best-value pressure washers:
#1 WORX WG625 2.0 Ah Hydroshot Portable Power Cleaner
WORX is a trusted name when it comes to cordless power cleaners. This particular model, for instance, is one of the best-selling models from the brand.
It has a PSI of 320 and a flow rate of 0.53. Users of this tool said it delivers a lot more water pressure than the conventional garden hose. Also, it is not picky about where you source your water, may it be from a bucket, lakes, or pools.

So, I'd say it's pretty practical. In fact, a lot of people seem to choose this battery power pressure washer.
---
#2 WORX WG630.2 4.0 Ah High Flow Battery Pressure Washer
This model is kind of an upgrade from the WG625 version. It has the same appearance and black and orange colors. In addition, they both share some features, except this model has higher charge capacity, which means it can perform longer than the previous model. Its PSI is 350 and 0.92 flow rate.

Also, it has a soap bottle and a brush, perfect for car washing. To be honest, I was debating whether to get the 2.0 Ah one or this, but in the end, I'd opted for a higher charge capacity. Since my primary reason for buying a cordless pressure cleaner is to do a quick cleaning, then I'd figure the longer it can be used, the better.

---
#3 RYOBI RY120350 18V Cordless Power Cleaner
RYOBI is yet another trusted name in the power tools industry. The brand had produced exceptional models of pressure washer and specialized in lightweight and portable units.
This RY120350 model has 320 PSI rating and 0.8 GPM flow rate for a total cleaning power of 256 CU. As mentioned before, it is not the best cleaning tool out there but if you know and understand its limitations, then you know this tool is perfect for cleaning car windows and even portable things like your bike or helmets when you are out on an adventure.

---
#4 SaintGE G15-Li Portable Chemical Sprayer and Pressure Washer
Last on our list is this chemical sprayer and pressure washer cordless cleaner. It comes with a 20pack battery at 15V each. The maximum PSI of this cleaner is 110 PSI, but has an adjustable gun to control the pressure of up to 0.9 GPM.

But what really sets this one from other battery-operated pressure washers is it can be recharge in 90 minutes. What is more is that it can for as long as 2 hours of application.
It's not really my top pick, but if you intend to use chemicals or some cleaning solution when cleaning, then this is an excellent choice as the accessories that come with it are suitable for such applications.
There you go! My top pick for the best battery power pressure washer cleaner. If you are after for best-value, then go for the WORX models. Either of the two models in our list is perfect; you just find the one that suits you best.

Like this blog? Let us know by commenting below!