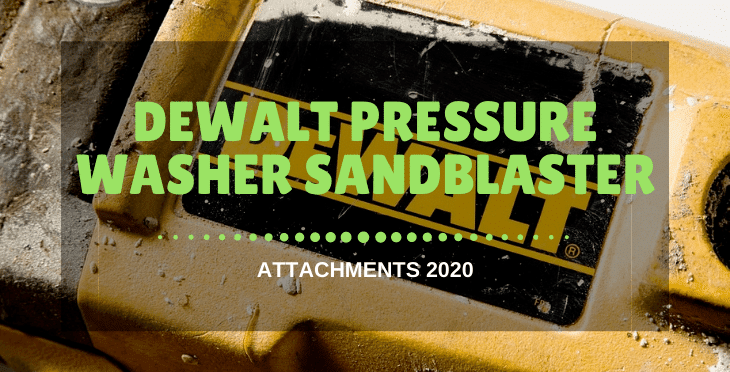 Dewalt Pressure Washer Sandblaster Attachments 2020
If you buy an item via links on this page, we may earn a commission. Our editorial content is not influenced by commissions. Read the full disclosure.
Sandblaster is perfect for woodworking and metalworking projects. If you want to know the best Dewalt pressure washer sandblaster, then we've got the best attachments below!
Sandblasting is a more common term for abrasive blasting in which an abrasive material is forcibly applied on a surface through high pressure. The main purpose is to smoothen rough surfaces or to remove stubborn contaminants that stick to the surface.
And since high pressure is needed for this method to be effective, a reliable pressure washer unit is a must. For this, it is better to use one from reliable brands such as Dewalt pressure washers.

Today's blog will specifically discuss the Dewalt pressure washer sandblaster attachment alternatives. But first, it is important to be well-informed so that you can avoid accidents.
PSI Requirement For Sandblaster
For heavy-duty tasks, it is recommended to use a gas pressure washer with at least 3000 PSI and a GPM of 2.5 minimum. The tougher the project is the higher the PSI requirement.

In most cases, the maximum PSI would be around 5000 PSI and 4.0 GPM, thus the sandblasting power would be 20,000 CU. This is more than enough to smoothen out metals.
If you are dealing with woodwork, it is better to just stick to 2500 PSI and 2.5 GPM. The 6,250 CU power is enough to complete the job.
Dewalt Pressure Washer Sandblaster Attachment 2020
If you have a Dewalt gas-powered pressure washer and want to buy a sandblaster kit for the tool, then check out our recommendation below:
#Tool Daily Pressure Washer Sandblaster Kit
This pressure washer sandblaster kit is perfect for Dewalt 4200 PSI gas pressure washer. The minimum PSI for this attachment is 3000 PSI and a maximum pressure of 5000 PSI.
The minimum flow rate required to use this Dewalt pressure washer sandblasting kit is 3.0 GPM. What is more, you can change the orifice to 2.5 GPM when dealing with woods.

Water temperature is also not an issue as this can withstand 140 degree Fahrenheit or an equivalent of 60 degree Celsius. Therefore, this attachment is also suitable for hot water pressure washing. Amazing, isn't it?
Best Features:
Setting Up Instructions
Below is the step by step instructions on how to set up this Dewalt pressure washer sandblaster attachment:
Dewalt pressure washer sandblaster is a must-have tool if you own a Dewalt pressure washer and you intend to use it for sandblasting.

Do you have other pressure washer sandblasting kit options? Comment them down below to help others!