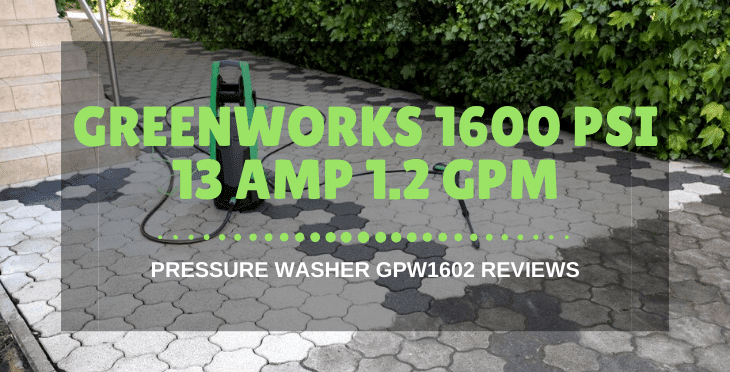 GreenWorks 1600 PSI 13 Amp 1.2 GPM Pressure Washer GPW1602 Reviews
If you buy an item via links on this page, we may earn a commission. Our editorial content is not influenced by commissions. Read the full disclosure.
​Find out what cleaning jobs can you accomplish with the Greenworks 1600 psi 13 amp 1.2 gpm pressure washer GPW1602 and the recommended accessories to buy!
​With the summer season fast approaching, it is time to plan out your deep cleaning project. More daylight means a perfect time to pressure wash grime, molds, mildew, and dirt accumulated during the colder months.

​Pressure washing wooden decks, fences, and furniture on summer days proves to be more advantageous as this prevents water from seeping too deep and rot the material from within.
​This leads to many asking which pressure washer to use for such tasks?
​Greenworks GPW1602 is one of the most coveted options. Some reviews would even claim it to be the best, but is it, really?
​Let's get to the truth of this claim. We did our research and now we are sharing with you what we found out!
​GreenWorks 1600 PSI 13 Amp 1.2 GPM Pressure Washer GPW1602 Reviews
​To better decide if this is worth a purchase, we made a quick run-through of the machine's best features and limitations.
#​Greenworks GPW 1600 PSI Electric Pressure Washer
​Most Greenworks pressure washer machines are electric-powered. Their models usually range from light-duty to medium-duty applications. The GPW1602 falls under the light-duty category. It has a total dimension of 11.4 x 17.1 x 9.4 inches and weighs 16 pounds.

​With a psi level of 1600 psi and a flow rate of 1.2 gpm, you can expect a 1,920 CU cleaning power. This CU is enough for low-pressure cleaning tasks, especially ones that require soap and foam washing but not reliable when it comes to medium-duty cleaning.
​Why Is It The Best Pressure Washer For Vehicles?
​When pressure washing cars or ATVs, and RVs, the most suitable machine to use is a light-duty one coupled with a 25-degrees nozzle spray tip.

​Greenworks 1600 PSI pressure washer parts include the green nozzle tip attachment which is set at 25-degrees. This spray pattern is ideal for sensitive surfaces like mirrors and glass which car windows are made of.

​Another reason is that Greenworks 1600 psi electric pressure washer has the recommended psi level for car washing. Experts suggest using a pressure washer with psi range from 1200 to 1600 psi as this does not damage the paint coating of cars. In terms of flow rate, a machine with 1.2 to 1.6 GPM would suffice.

​As per Greenworks 1600 psi pressure washer manual, the psi and gpm range, as well as the 25-degree nozzle tip are all found in this pressure washer.

​Therefore, the answer is YES!
​Greenworks GPW1602 is the best pressure washer for cars and other vehicles.

​Why Is It Great For Wooden Surfaces?
​Another query that a lot of you want to know is whether this machine is indeed an excellent choice for cleaning wooden surfaces?
​The thing with wooden flooring is that you need to use the right pressure. If the tool is too powerful, it can etch too deep especially if the material is a softwood. The rule of thumb is to use 1200 psi for softwood and 1500 to 1600 psi for hardwood.

​You must also consider the nozzle spray tip to use. The ideal spray pattern is the 40-degree tip attachment. Avoid the pencil-point at any cost as it can leave lasting damage to the wood.
​The spray pattern of 40-degrees nozzle attachment is enough to penetrate the top layer of the wood, thus removing the dirt that sticks to the surface. It is not strong enough to get through the deeper level, which means that it will not take too long for the moisture to evaporate and escape. Hence, your wooden deck or wood furniture will dry quickly.

​So, to answer yet another question whether Greenworks 1600 psi is suitable for wooden surfaces, we'd say YES!