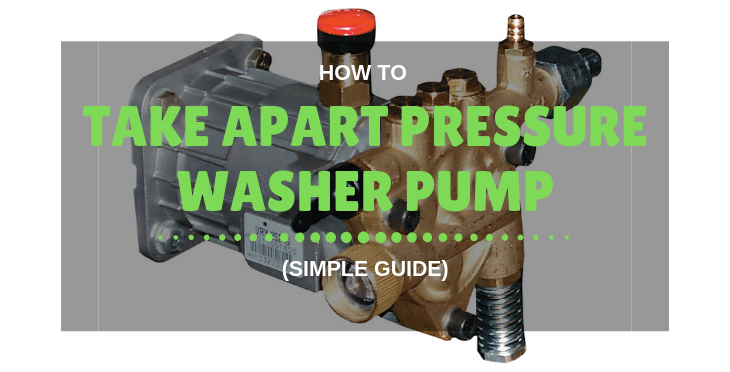 How to Take Apart a Pressure Washer Pump (Simple Guide)
If you buy an item via links on this page, we may earn a commission. Our editorial content is not influenced by commissions. Read the full disclosure.
Sometimes, you'll need to take apart your pressure washer pump to maintain it. Here is a guide that'll teach you how to take apart a pressure washer pump.
There are times when you'll be needing to take apart your pressure washer pump to either maintain it or repair it when it's not working well. Fortunately, this isn't such a hard thing to do. All you need are some of the tools necessary to get the job done plus the know-how on how to take apart a pressure washer pump.
In this short guide, we'll be discussing some of the tools you'll need and the steps on how to take apart pressure washer pump.
Check it out:
How to Take Apart a Pressure Washer Pump (Guide)
Before going to the steps on how to take apart a pressure washer pump, you'll need the necessary tools to do this job.
These are the tools you'll need:
Allen Wrench
Penetrating Oil
Socket Wrench
Flathead Screwdriver
That's pretty much all the tools you'll need for this job. After gathering these tools, the next thing to do is to go ahead to the steps on how to take apart pressure washer pump.
First, disconnect all the hoses that are attached to the pressure washer.
Take out the penetrating oil and slowly spray some over the topmost area of the flange. If you're having a hard time pinpointing exactly where to spray it, look for the area where the flange is attached to the engine. You can spray in that area.
Get out your socket wrench and disconnect the mounting bolts and washers attached.
Next, get your Allen wrench and just loosen the screw on the drive shaft just a bit. If you're having a bit of difficulty loosening it, then you can pull on the starting cord a bit so that the shaft will move to the position you want it to.
Once everything is disconnected take the pump out from the crankshaft. You may your big flathead screwdriver to help you take the pump out if it's stuck.
By following these steps, you should have your pressure washer pump out of the engine face and crankshaft. From there, you can already make the necessary repairs and maintenance that you need to do. This is also the same steps that you have to take if you want to replace the pump with a new one.
Important Reminders
Before ending, there are a few important reminders that you do have to take note of when doing this process.
Here are a few crucial ones that you should never miss out:
Before even beginning to take apart the pressure washer, you need to make sure that the entire machine is unplugged and that the spark plug wire is also disconnected from the spark plug unit.
Always check the size of your mounting bolts so that you can use the right size of a socket wrench.
Never use too much force when you're trying to take out the pump from the engine face and the crankshaft. Using too much force may damage your unit.
If you still cannot seem to pry the pump loose from the engine face, you may try to insert full thread screws into the pump flange's holes located near the mounting bolts as this will slowly push out the pump from the face. If it is still stubborn, thread the screws in alternative directions slowly until you feel like it is coming loose.
Conclusion
While learning how to take apart a pressure washer pump is actually not that hard to do, it is still a pretty delicate process that you need to learn. As you can see from the steps and reminders provided above, you do have to be a bit careful as you may damage the machine if you are too forceful with it.
It's important to follow all the steps that we have provided so that you will have absolutely no problem taking apart your pressure washer. You should also carefully read all of the important reminders that we have added in the event that you have run into a few problems with the process.
Lastly, make sure that you are safe at all times when you're handling your electric pressure washer since mishandling may result in some unwanted accidents that could happen along the way. 
Have a great day!
TOP 5 most viewed articles in month
In compiling a top-5 list of this month's most popular articles: