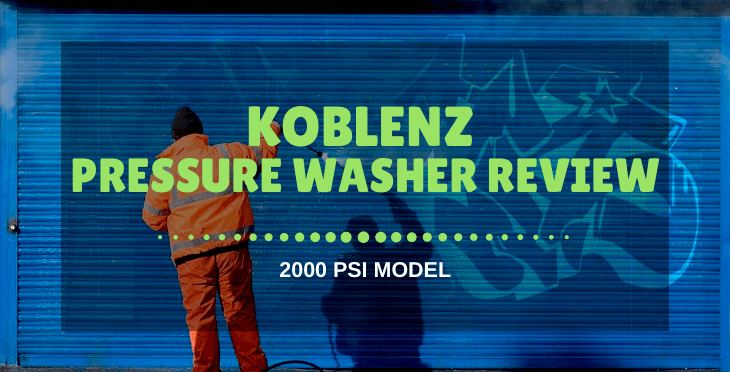 Koblenz Pressure Washer Review (2020)
If you buy an item via links on this page, we may earn a commission. Our editorial content is not influenced by commissions. Read the full disclosure.
We want to show you the best Koblenz pressure washer as per our own experience. Take a look at our Koblenz pressure washer review below to know a bit more.
Koblenz pressure washers are pretty well-known in the market as some of the best and most efficient pressure washers you can find. These medium-duty power washers are amazing for homeowners and can clean all surfaces without leaving a spot.

Of course, there are a number of Koblenz electric pressure washer models out there. You need to know how to choose the best one.

Luckily, we decided to help you save time and effort by offering you this Koblenz pressure washer review.

Koblenz 2000 PSI Pressure Washer Review
# Koblenz 2000 PSI Electric Pressure Washer
Our top pick is none other than the Koblenz 2000 PSI pressure washer. If you're looking for a pressure washer that has enough power for your home, then this is definitely the one to get. Aside from just its power, it is also one of most efficient machines you can find.

First of all, the motor in itself is extremely strong. It has a universal motor with a 1.32 gallon per minute water flow. This motor also offers a 2000 PSI pressure rating. Most of all, it has an automatic stop system in the event that the machine is overworked.

Installation Steps

Now that we have introduced the Koblenz pressure washer 2000 PSI, we'll now help you install it. We included a few installation steps that can help beginners who have never owned a Koblenz pressure before.

We'll guide you on how to assemble all of the Koblenz pressure washer parts together to get your machine running. The great thing about this guide is that it can be used to assemble any Koblenz model of pressure washer. All you need to do is follow the steps and you should be fine.
1. Connect The Hose To The Pressure Washer
First off, you need to connect the pressure hose to the washer. In order to do this, you just need to get out your hose and place it in the inlet which can be found on the top of the water inlet. Once it's in, make sure you tighten it.

2. Get The Garden Hose
The next thing to do is to do is attach the garden hose. Put it in the water inlet itself and use a coupler to attach it to the pressure washer. Make sure that you tighten the hose properly so that the water won't come out.

3. Put Up The Spray Gun
Once all of the hoses are attached to each other, you can attach the spray gun. Make sure the spray gun is locked in place with the extension wand. Make sure to twist the spray gun tip tightly before you use your spray gun.

4. Plug The Power Cord
Next, plug the cord to the outlet. When you've done this, you are a step closer to using your pressure washer.
5. Turn It On
Lastly, you need to turn on the water faucet. Don't turn it too high as that may damage your pump. After that, you can turn on your machine by pressing on the "On" button of your pressure washer. Once you've done this, you can start using the pressure washer.
Conclusion
And there we have our Koblenz pressure washer review! You have all the information that you need in order to choose the best pressure washer for your home. Of course, the pros and cons have given you an idea as to just how good this Koblenz pressure washer model is. We also added a pretty good installation guide that'll allow you to set up your pressure washer right away.
So, now that we have all that set aside, the only thing left to do is get your pressure washer. And if you happen to have any friends who are interested in getting a good Koblenz, share this article with them right away.