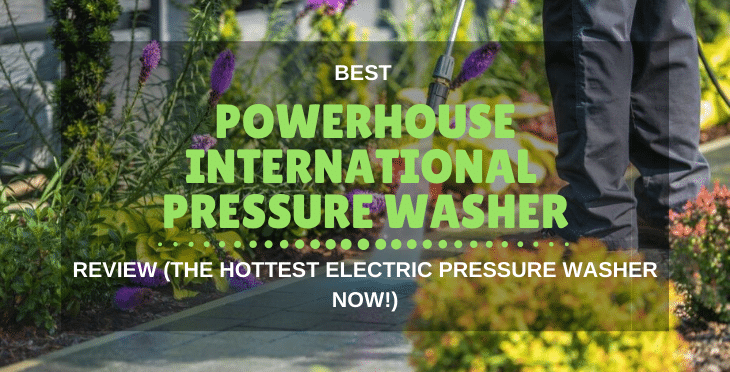 Best Powerhouse International Pressure Washer Review
If you buy an item via links on this page, we may earn a commission. Our editorial content is not influenced by commissions. Read the full disclosure.
​If you are looking for a versatile cleaner, then Powerhouse International Pressure Washer is for you. We've compiled the pros and cons of this machine below!
​While updating our list of best electric pressure washer for 2020, we made sure to include the Powerhouse International Pressure Washer on our roundup list of the best pressure washer options.

​If you want to check out our other highly recommended electric pressure washer machines, you may click HERE, but if you want to find out the reasons why we are so impressed with this power washer, then read on!
​Important Specs Of Powerhouse International Electric Pressure Washer
​If you are interested in buying this pressure washer, you should be familiar with its notable specs as listed below:
| | |
| --- | --- |
| | ​Powerhouse International Platinum Edition |
| | |
| | |
| | |
| | ​Brush Motor (electric-powered) |
| | ​Quiet and with Auto-Stop Feature |
| | |
| | |
| | ​0-degree, 15-degree, 25-degree, 40-degree, and wateringnozzle |
​Powerhouse International Pressure Washer Review (Comprehensive And Honest Feedback)
#​Powerhouse International 3000 PSI Platinum Edition Electric Pressure Washer
​This is a platinum edition of the previous 3000 PSI model with specific feature upgrades. It is a medium-duty pressure washer cleaner with cleaning power of 6,600 CU.

The body of this power washer is a bit bulky to look at, but it is surprisingly light enough to move around. The purpose of its heavier appearance is the amount of power the machine can produce during cleaning operations. It is packed with a high-grade brush motor that is comparable to a gas pressure washer.
Many buyers also think that it looks attractive than any other pressure washers. With its distinct red and black combination, one can easily distinguish that it is from Powerhouse International.

​Now, let's get to know this power washer in detail as we discuss the pros and cons of using it:
​If you want to know how this Powerhouse International - Electric high power - Pressure Washer looks like, here's an unboxing video for you to watch: ​

​So, what do you think? Is this the electric pressure washer you have been looking for? We hope you find this Powerhouse International Electric Pressure Washer review helpful.

​Give us a thumbs up if you love this content or leave a comment below!