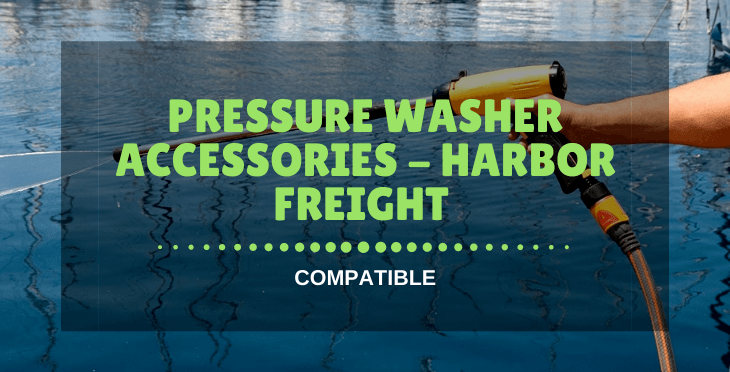 Pressure Washer Accessories Harbor Freight (Compatible)
If you buy an item via links on this page, we may earn a commission. Our editorial content is not influenced by commissions. Read the full disclosure.
When you buy your Harbor Freight pressure washer, it's great to have accessories available. Here are a few pressure washer accessories harbor freight we like.
What good is a pressure washer if you can't accessorize it a bit in order to enhance your overall cleaning experience?

Of course, you need to know how to choose the right accessories. We prefer the best Harbor Freight accessories that money can buy. This brand has some of the best parts that you can attach to almost any brand of pressure washers.

Take a look at them below:

Pressure Washer Accessories For Harbor Freight (2020 Reviews)
#Harbor Freight Pressure Washer Replacement Wand
One of the most popular Harbor Freight pressure washer attachments you can buy is none other than this replacement wand. Spray gun wands are very important to pressure washers because they determine the strength and angle of the pressure washer.

So, if you want to change up the configuration of your pressure washer a bit, you might want to try switching the wand. Of course, this also works as a spare part in the event that your existing wand wears out.

What makes this product so special, anyway?

Well, it is one of the most versatile replacement wands in a sense that it is compatible with almost all brands of pressure washers. Obviously, it can fit well with Harbor Freight products. But aside from that, it can also fit well on other brands like Ryobi, Rural King, Power Stroke, and many more. It also works with a high range of pressure ratings. It can work for pressure washers with a max of 4000 PSI, which is very impressive for a replacement wand.
---
#Harbor Freight Power Pressure Washer Water Pump
Another very important spare part that you should have ready with you is an extra pressure washer pump. In fact, this is probably one of the harbor freight pressure washer parts that you need to keep in your storage the moment you buy your pressure washer.

Because you'll never know when your pump may give way. It's good to have an extra one, anyway.

This particular one is a pretty strong pressure washer pump that has a max PSI of up to 3000 PSI. It also has a max GPM of up to 2.5 GPM, making it able to shoot out water at full blasts. Aside from that, it can fit a number of Harbor Freight models. Therefore, if you happen to have a Harbor Freight Hydrostar model, then this pressure washer pump will fit in very well.

Finally, it has a pretty solid built with a robust shaft. After all, it has a very hard and strong brass head up with a ¾ inch shaft.

Conclusion
Those are two of our favorite pressure washer accessories harbor freight. Admittedly, these are two of the most important spare parts that you may want to buy when you get your pressure washer. Get yourself a good replacement pump and a replacement wand.

And for us, this is the best one to have if you happen to buy a Harbor Freight pressure washer. Of course, the wand will go well with even other brands of pressure washers so that's an advantage of this product.

Don't hesitate to purchase these replacement parts if you happen to be looking for the best ones in the market. We can vouch for the quality of these products.