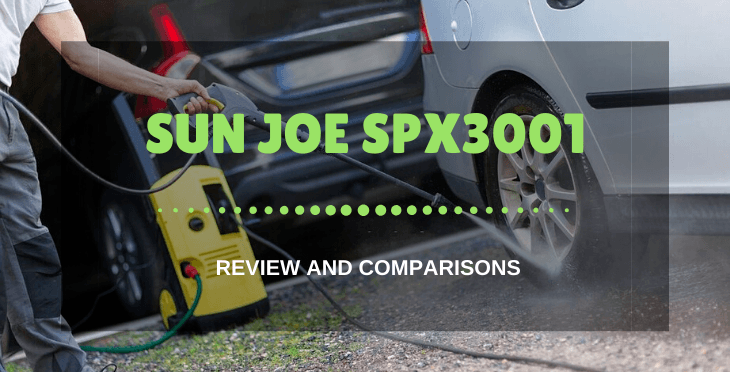 Sun Joe SPX3001 Review and Comparisons
If you buy an item via links on this page, we may earn a commission. Our editorial content is not influenced by commissions. Read the full disclosure.
​Having second thoughts which Sun Joe pressure washer to buy? Read our Sun Joe SPX3001 review as we discuss its pros and cons to find out if this is for you!
​Sun Joe has been a well-known and trusted name in the power tools and pressure washer industry. The brand is most popular for offering mid-range power washers that every homeowner can rely on when it comes to home cleaning projects.

​Sun Joe SPX3001 is one of its highly coveted pressure washer models. And in this article, we will discuss in detail why a lot of people seem to love using this pressure washer.
​To start off, take a look at Sun Joe SPX3001 electric pressure washer's specifications and notable features below:
​5 Quick-Connect Spray Tips

​20-foot high-pressure hose

​34-Inches extension wand

Cell
​Sun Joe SPX3001 Reviews
#​Sun Joe SPX3001 Electric Pressure Washer (Homeowner's Choice)
​This pressure washer is what most people would buy for their home cleaning projects. The main reasons are affordability, versatility, and being user-friendly.
​It also has a less intimidating look that would usually put off average users. It is compact yet light and can be easily moved around both indoors and outdoors. While in Sun Joe SPX3001 Vs SPX4001 comparisons, many would consider this as a light-duty pressure washer option, this model actually just has the same cleaning power as the SPX4001 version.

​So, what's the key difference between the SPX3001 and SPX4001?
​There's nothing much of a difference, really. Both models have hose reel which the SPX3000 and the SPX4000 don't have. They only differ in one feature, the Pressure Select Technology.

​Sun Joe SPX3001 2030 PSI 1.76 14.5 Amp Electric Pressure Washer with Hose Reel ---- This is what the model is actually known for. But the only thing it lacks to go at par with the SPX4001 version is the low-pressure setting.

​Check out this comparison table below:
​Sun Joe SPX3001 Vs SPX4001
​Both pressure washer models have similar psi and gpm level, which give both the same cleaning power as well at 3, 573 CU. In terms of motor power, both also make use of a 14.5 Amp / 1800 Watts motor.
​The SPX4001 version has features like quick-connect spray tips, detergent tank, built-in hose reel, and pressure select technology. Whereas the SPX3001 version has all the same features except the pressure select technology. This is a technology that allows the user to switch from high-pressure 2030 psi to low-pressure at 1450 psi.

​Furthermore, the SPX4001 is also a bit heavier by .4 pounds. On top of that, the SPX4001 also has a steel handlebar that allows you t easily maneuver the machine during operation.

​Sun Joe SPX3001 Vs SPX3000
​Both have 2030 psi level and 1.76 gpm flow rate. Moreover, both models are backed by 14.5 Amp motor at 1800 Watts. Thus, when it comes to cleaning power, they basically have the same 3,573 CU.

​Two common features that SPX3000 and SPX3001 share are the detergent tank and quick connect sprays.

​The most notable difference is that the Sun Joe SPX3001 version has an onboard hose reel. This is a common feature for most Sun Joe pressure washer models ending in -01, like the SPX4001 which also has the built-in hose reel feature.

​The SPX3001 is also a bit heavier by just one pound at 32 lbs whilst the SPX3000 is just 31 lbs.

​Final Verdict
​So, is Sun Joe SPX3001 really worth it?
​We personally think it does. If your goal of purchasing a pressure washer is to accomplish various cleaning projects at home using, more or less, the same pressure level, then we will highly recommend the SPX3001 model.