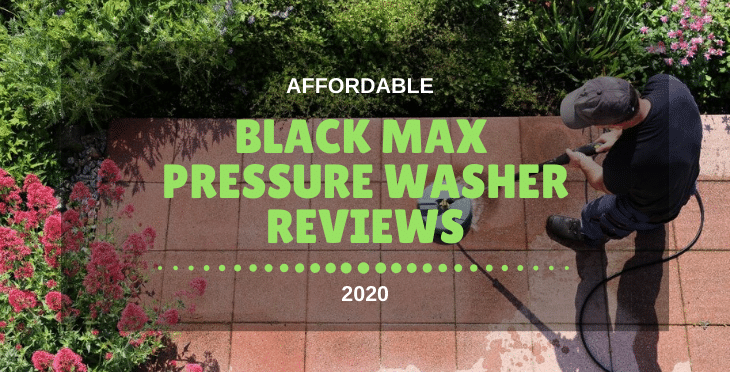 Affordable Black Max Pressure Washer Reviews 2020
If you buy an item via links on this page, we may earn a commission. Our editorial content is not influenced by commissions. Read the full disclosure.
​Learn about the engine and cleaning power of your pressure washer. We've got two Black Max Pressure washer reviews that you don't want to miss out!
​Black Max has some of the best pressure washers around. That's why it's pretty common to see a lot of good feedback on most Black Max Pressure washer reviews.

​But the question is, which Black Max pressure washer is the best for you?
​Well, we have two of the best Black Max pressure washers you can find in the market. If ever you want to get a good pressure washer, then you can choose between any of the two choices we have. In any case, we'll also give you a buying guide and some facts so that you'll have an easy time choosing.

​Engine Size And Cleaning Power
​Before we delve into the reviews, let's first talk about the engine and the cleaning power. The engine is one of the most important things to check if you're going to choose a Black Max pressure washer. First, let's talk about the engine size.

​The bigger the engine (measured in cubic centimeter), the bigger the combustion chamber. The bigger the chamber, the more powerful the engine. You can measure the power rate of the engine by PSI or water pressure.
​What does that have to do with the cleaning power?

​Well, the cleaning power is equal to the PSI times the water flow rate or the GPM. So, if we're going to talk about size, we'll use the PSI as a measurement. Most heavy-duty Black Max pressure washers have a PSI of 3000 or above. Medium-duty Black Max types are around 2500 PSI or that kind of figure. If you're looking for a light-duty type, you'd most likely get a Black Max 1800 PSI pressure washer.
​Now, it's also interesting to note that there are many brands of engines that Black Max pressure washers use. So far, the most popular and most efficient ones are the Mitsubishi and Subaru types.

​How To Choose The Perfect PSI For Your Pressure Washer?
​By knowing a little bit more about engines and cleaning power, let's move on to the buying guide. The whole purpose of the buying guide is to allow you a set of criteria that can help you choose the most suitable pressure washer out of the two choices.

​Here are the criteria that you can follow:
​We've already mentioned this just now. One of the most important things to consider is the water pressure as this will tell you how strong your pressure washer is. The water pressure is measured in PSI, so the higher the PSI the stronger the pressure washer. But that's not the only thing to think about.

​Here are a few other factors to consider.
​Pressure washers either come with an electric starter or a recoil starter. What difference does it make? Well, the electric starters are more expensive, but they're also easier to use. The more cost-effective type is the one with the recoil starter but these ones can be a handful.

​You may want to get a pressure washer with strong wheels because you might be lugging it around a lot. If your pressure washer doesn't have strong wheels, it might not be able to take all the moving around. We suggest that you get the ones that have big and thick wheels.

​Most pressure washers come with a heating element or a boiler. This boiler can heat up water to about 140 degrees Fahrenheit. The good thing about hot water pressure washers is that they can easily take out stains quicker than cold water. Thus, if you want something that can take sticky grime, a hot water pressure washer is recommended.

​Best Black Max Pressure Washer Reviews In 2020

​Those 4 factors are the main ones that you need to take note of. Now that you have some criteria, let's talk about the two Black Max pressure washers you can choose from.

#​Black Max 2800 PSI Pressure Washer with Mitsubishi Engine

​First up is the Black Max 2800 PSI pressure washer with Mitsubishi engine. This one is well-known for its high strength having a 2800 PSI water pressure. Aside from that, it has a 2.4 GPM rate. Multiply that together and you have a pretty impressive cleaning power of 6720 units. Other than power, it also has a very sturdy steel frame and 12-inch tires that never go flat.
---
#​Black Max 2700 PSI Pressure Washer with Subaru Engine
​The second choice is the Black Max 2700 PSI pressure washer with Subaru engine. As compared to the one with the Mitsubishi engine, this one is slightly weaker in terms of pressure, but it's definitely easier to bring around. It can be stored easily and is not that hard to bring around. Plus, it comes with a special Axial cam aluminum pump pro, which actually lasts longer than most pumps. If you're looking for something portable and long-lasting, this is definitely the one to buy.

​Conclusion
​Do you now know which Black Max pressure washer you want? If you do, go ahead and buy the best one for your needs. Use our buying guide and our top picks to narrow down your choices.

​We're glad that these Black Max Pressure washer reviews can be a help to you.