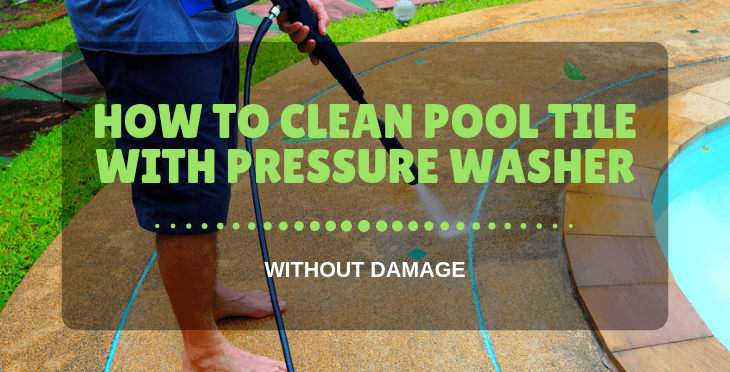 How To Clean Pool Tile With Pressure Washer Without Damage?
If you buy an item via links on this page, we may earn a commission. Our editorial content is not influenced by commissions. Read the full disclosure.
Pool areas are usually very dirty and need to be cleaned by pressure washers regularly. Here are some tips on how to clean pool tile with pressure washers.
After some time, the interior of swimming pools develops a lot of muck and grime on the pool tiles if not cleaned regularly. This can turn your once relaxing swimming pool into a replica of a swamp.
A pressure washer is versatile and strong enough to clean through all the grime to ensure that your pool remains clean for further use.
Since pressure washers can clean pretty much anything, pool tile maintenance isn't going to be much of a problem. The only challenge would be learning how to clean pool tiles with pressure washers as these machines are so strong that they are not that easy to control.
Can I Use A Pressure Washer To Clean Pool Tile?
The first question that most people would ask in this situation is whether or not you can pressure wash pool tiles as pressure washers are extremely strong. The main concern here would be that the pressure washer would damage the tiles.
The answer is YES, pressure washers can clean pool tiles without damaging them— if used properly.
Pool tiles are usually made out of either ceramic or porcelain. All of these can be damaged by a pressure washer if you use too strong of a pressure to clean these floors. That's why there are techniques on how to clean pool tiles with pressure washers.
Later on, we'll discuss some of the ways to power wash pool tiles the proper way to keep from damaging them. Just keep in mind that it is possible if you know how to.
How To Clean Pool Tile With Pressure Washer
To start off, let's begin by going through the steps on how to clean the interior tiles of the pool. Just follow these steps and you should have no problem:
How Not To Damage Pool Tile - Pressure Washing Pool Tile Tips
Now that you know how to clean pool tiles with the pressure washers, the next thing to take note of would be learning how to avoid damaging tiles.
Here are the tips on how to do that:
The first tip addresses a very rookie mistake that a lot of beginners make during the first times in cleaning pool tiles. The tip is to simply use less pressure when you clean. We would recommend something like 3,000 PSI for the job.
If your tiles are a little more on the fragile side though, you can use pressure washers with pressures as low as 2600 PSI or even 2000 PSI depending on your situation. Just remember to test out the pressure first to see if it is appropriate. From there, make the necessary adjustments.
Keep Distance From The Tiles
Another tip would be to keep distance from the place you are spraying. The thing about pressure washers is that they shoot extremely concentrated amounts of water, that's why they can cause damage to some tiles. To make the water not so concentrated, stay far from the spot you're hitting. We recommend at least 3 feet of distance.
This is yet another rookie mistake that a lot of beginners make. Using the wrong nozzle can result in too much strength, thus damaging the tiles in the process. We recommend that you use the nozzle that exerts the least pressure. When you buy your pressure washer, you can ask for assistance in choosing the best nozzle for cleaning the material that makes up your pool.
Don't Stay In One Spot Too Long
Lastly, don't stay in one spot for too long. Even if you're using the right nozzle, are at the right distance, and are using less pressure, spraying at one spot for a long time can still cause quite a bit of damage. We recommend that you work 30 seconds per spot and then check for damage. If the algae or grime is stubborn in some areas, you can spray longer on those areas but don't spray continuously. Spray for 30 seconds, then stop, then go at it again.
Conclusion
As you can see, pressure washing pool tiles can be a bit of a challenge if you don't know how to do it. Fortunately, it's not that hard. All you have to do is learn the steps on how to clean pool tiles with pressure washers and learn the techniques on how to avoid damaging the tiles. These two aspects are discussed above at length. As long as you learn about them, you should have no trouble.
TOP 7 most viewed articles in month
In compiling a top-5 list of this month's most popular articles: