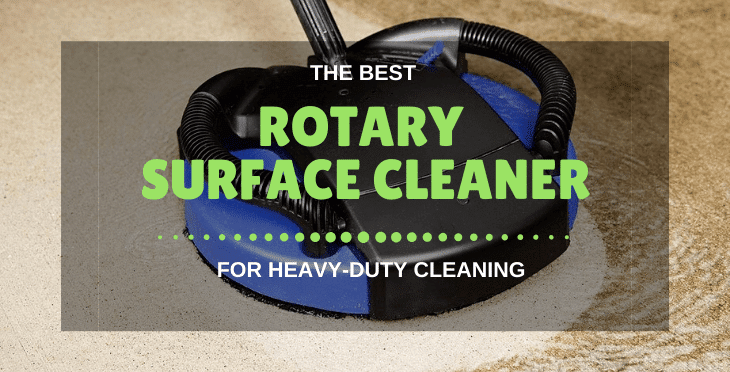 Best Rotary Surface Cleaner For Heavy-Duty Cleaning
If you buy an item via links on this page, we may earn a commission. Our editorial content is not influenced by commissions. Read the full disclosure.
​Learn how can a rotary surface cleaner makes your floors and walls squeaky clean, its application areas & our recommended rotary surface cleaner review!
​Rotary surface cleaners are undoubtedly one of the best pressure washer attachments for floor cleaning.

​It has a large rotating spray bar underneath the head. The same rotating spray bar produces pressure, which causes the surface cleaner to glide along the surface, cleaning it effortlessly.
​In other words, instead of using much effort to brush left to right or up and down to remove stains and dirt, the rotary surface cleaner will do all the work for you. All you have to do is guide the surface cleaner head to the directions where you want to be cleaned.

​The Best Rotary Surface Cleaner For Heavy Cleaning Reviews
​Now, you might be wondering:
​What's the most efficient rotary surface cleaner to buy if I want a thorough cleaning?
​We heard your question and so we deliver.
#​Mi-T-M Rotary Surface Cleaner 20-Inches
​There's nothing better than cleaning stubborn dirt and old stains on your flooring than the Mi TM Rotary surface cleaner.

It's a heavy-duty surface cleaner designed for gas-powered pressure washers up to a maximum psi level of 4000 psi. What's more, it is compatible with a high flow rate level from 3.0 to 5.0 GPM.

Some are asking if they can use the MiTM rotary surface cleaner with a low-pressure power washer machine. The answer would be NO. Such machines do not have enough pressure to cause the spray bar to rotate.

​The minimum requirement would be 2000 psi at 3.0 GPM, which means that the pressure washer must have at least 6,000 cleaning power for you to make the most of the Mi-T-M rotary surface cleaners.

​Rotary Surface Cleaner Pressure Washer Attachment Cleaning Applications
​For those who are still confused as to where and where not to use the rotary surface cleaners, we've made a list of its specific cleaning applications below:
​Removes Grease, Algae, And Deposits
​Grease and oil need more than just water to completely breakdown the compounds and get rid of the greasiness. The same thing is required for cleaning deposits and algae.A rotary surface cleaner can help breakdown the grease, fuel, and oil through spraying the same areas consistently while blasting them off simultaneously.
​Gets Rid Of Stubborn Stains And Dirt From Porous Surfaces
​Old stains and dirt are often harder to remove. Thus, a regular spray nozzle will not suffice to totally clean the area.

​Some would opt for the brush attachment, but this is only practical for small spot cleaning. If the area to be covered is large, a pressure washer rotary surface cleaner is a must. Its easier, effortless, and faster. This is also less damaging to the surface being cleaned.

​If the stain is stuck on concrete or tiles, the more you avoid brushing it off. The brush bristles if pressed too hard can cause ugly scratches.
​​Suitable For Pebbled Driveways And Patios
​Driveways and patios are usually open space areas with large floor space to clean. A pressure washer with the normal nozzle spray tips would take minutes to complete. Whereas a rotary surface cleaner can effectively clean such surfaces, regardless if even or uneven.
​Sanitizes Bathrooms And Saunas
​Aside from its main function, which is to remove stains and dirt, rotary surface cleaners are also good at disinfecting bathrooms floors and saunas.

​In saunas, for instance, toxins from our body are out in a form of sweats, which makes the floors and walls a thriving place for bacteria and germs if they are left uncleaned.

​The rotary surface cleaner offers a quick and easy way to sanitize bathrooms and saunas which you can do anytime you want as this does not require any special pre-cleaning preparations.