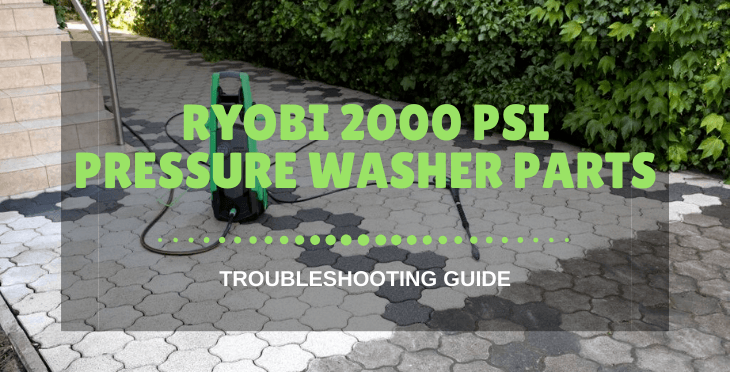 Ryobi 2000 PSI Pressure Washer Parts Troubleshooting Guide
If you buy an item via links on this page, we may earn a commission. Our editorial content is not influenced by commissions. Read the full disclosure.
​If you own a Ryobi 2000 pressure washer, you need to know how to troubleshoot the Ryobi 2000 psi pressure washer parts in the event. Here's how to do it.

​If you own a Ryobi 2000 PSI pressure washer, then you'll most likely be aware of instances wherein something may go wrong with it. In that situation, you need to be able to troubleshoot your machine so you'll know how to fix it.

​That's why we created this guide in the first place. We're going to help you troubleshoot your Ryobi 2000 psi pressure washer parts so that you can fix it anytime that you need to.

​Check out our simple Ryobi 2000 PSI pressure washer repair guide right below:
​Ryobi 2000 PSI Pressure Washer Troubleshooting And Repair Guide
​For the first time users out there, this guide will be extremely useful. With that said, let's move on to the easy tips on Troubleshooting Ryobi 2000 PSI pressure washer.
​In this guide, we're going to list down some of the most common problems you may experience with your machine and provide you with the possible solutions:
​First of all, let's talk about the most common problem that anyone with a pressure washer will experience— the engine not starting. For this problem, the first thing to check is the spark plug. If it is damaged, you'll need to replace it.

​Next, take a look at the carburetor. If you're fond of leaving fuel in your machine for a long time, there's a big chance that your carburetor will be clogged. If it is, then you must simply clean it up.
​Another thing that you may want to check is the ignition coil. The ignition coil is a part that is connected to the spark plug and will also result in an engine that won't start if damaged. If the ignition coil is damaged, then you may want to change it.

​If your machine stalls, then a possible problem is the carburetor. Just like in the first problem, the carburetor is most likely clogged. All you need to do is clean it up.
​Next is the fuel cap. You need to check the small air vent in the fuel cap for clogs. If it is, then you need to loosen the cap a bit. From there, check the engine to see if it will work. Loosening it will allow air to go inside, allowing the fuel cap to work.

​The next thing to check out for is water leaks. The main part you need to check is the pump assembly. If the water is leaking out of the machine, then the pump assembly is most likely damaged. You'll need to replace it in this case.

​If the machine has no pressure or weak pressure, then the problem again, may be due to the pump assembly. Again, you need to rebuild or replace it in order to ensure that the pressure comes back.

​Best Ryobi 2000 PSI Pressure Washer Reviews In 2020

​Now that we're done with our short and simple troubleshooting guide, there's one more thing we'd like to add— our favorite Ryobi pressure washer. If you're interested in buying one but haven't yet, we'd like to suggest this one.

#​Ryobi 1.2 GPM Electric Pressure Washer
​The Ryobi 1.2 GPM electric pressure washer is a strong machine but a lightweight one. It has a PSI of 2000 which is strong enough to remove even stubborn grease stains from concrete. It also has a very tight nozzle fit, allowing the nozzle to keep on no matter how strong the pressure gets. Lastly, it comes with easy to use handles for carrying.

​Conclusion
​With our simple guide on how to troubleshoot Ryobi 2000 psi pressure washer parts, you're now ready to own one yourself.