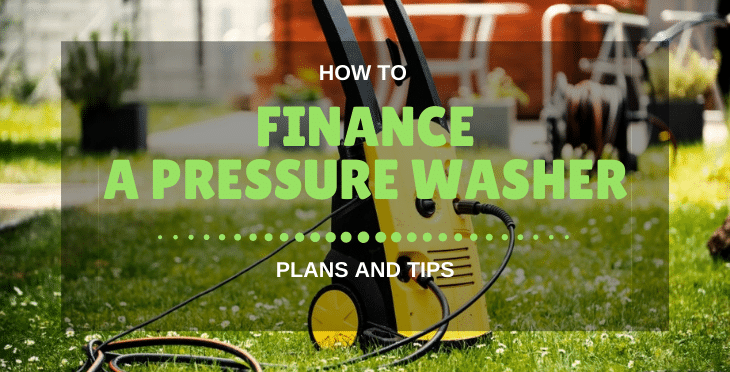 How To Finance a Power Washer (Plans And Tips)
If you buy an item via links on this page, we may earn a commission. Our editorial content is not influenced by commissions. Read the full disclosure.
Some pressure washers can be pretty expensive to buy at one go. That's why we prepared a few tips on how to finance a power washer so it won't feel too bad.

When you buy a pressure washer, you should always buy the best one-- especially if you're going to use it for a business.

Don't stick to budget pressure washers because budget pressure washers won't be able to handle big jobs that your business may require as you expand.

For instance, low grade pressure washers may not be able to take industrial for too long. And when your low grade power washer breaks down, you'll have to buy a new one again after a short span of time.
Of course, investing in a top quality pressure washer isn't going to be cheap. After all, you get what you pay for. But luckily, you don't have to pay everything in one go. There are ways on how to finance a power washer.

We'll show you how and give you some great ideas for pressure washer finance plans.
How To Finance a Power Washer?
When we talk about financing, the first question that pops into most customers' minds is, "Where can I finance a pressure washer?"
Lucky for you, almost all known pressure washer companies offer these sorts of plans. All you have to do is choose the one that's best for you. That's why it's so easy to finance a pressure washer.
The next thing you need to do is know your options. Various companies have different terms based on their company's financing plan policy. But generally, they are all rather similar. You need to know the various options that they offer so you can choose the right one.

Basic Finance Agreement/Loan
The most basic finance agreement is the regular finance agreement or loan. Usually, companies will loan the payment to their buyers and allow them to get the pressure washer right away. The terms are usually principal only pay-offs, monthly amortization, and a security interest in the equipment. This option won't affect your personal credit.

There are also lease to own agreements that require some sort of down payment and a one or two month deposit. From there, you can start paying on a monthly basis based on your desired budget.

Most companies are flexible so they can be customized. Once you make the down and the deposit, you can already start using the machine. However, this option usually requires a credit score check first. If ever you are qualified, then companies will grant you this option.

There are some companies that take into consideration the season of the business. For instance, if you are in a somehow, slow season, then the seller may take that into consideration and adjust lower monthly payments for that season.

All you need to do is provide information on your slow seasons and you can negotiate the terms with your seller.

Lastly, there are flexible loans that can be offered. This is great for businesses that have very low capital. This is especially good for tax purposes. There are low monthly payments for this option.

Also, you can choose whether this purchase will show up as a debt or not in your business' statement of financial position. This is especially good for businesses that offer heavy jobs. You can easily finance pressure washing trailer with this option.

Conclusion
Business owners need to find ways on how to keep costs low-- especially if they are just starting out. With low capital, it's best to buy equipment on terms so that you do not need to have a big payout in the first month. In order to do this, you just need to know how to finance a power washer by knowing the various options available.

If you ask your company the financing options that are available, you can get a couple of really good pressure washer easy pay options. As long as you know the terms of your financing options, you'll know which one works for you.

Do you happen to have a cleaning business or are planning on putting up one soon?

If so, consider buying equipment on terms instead of giving cash outright. This will allow you to save money on your first month of operations but allows you to start your business right away.