How to Use a Pressure Washer with Detergent?
If you buy an item via links on this page, we may earn a commission. Our editorial content is not influenced by commissions. Read the full disclosure.
Pressure washing requires some detergent if you want to really take out those nasty stains. Here are some tips on how to use a pressure washer with detergent.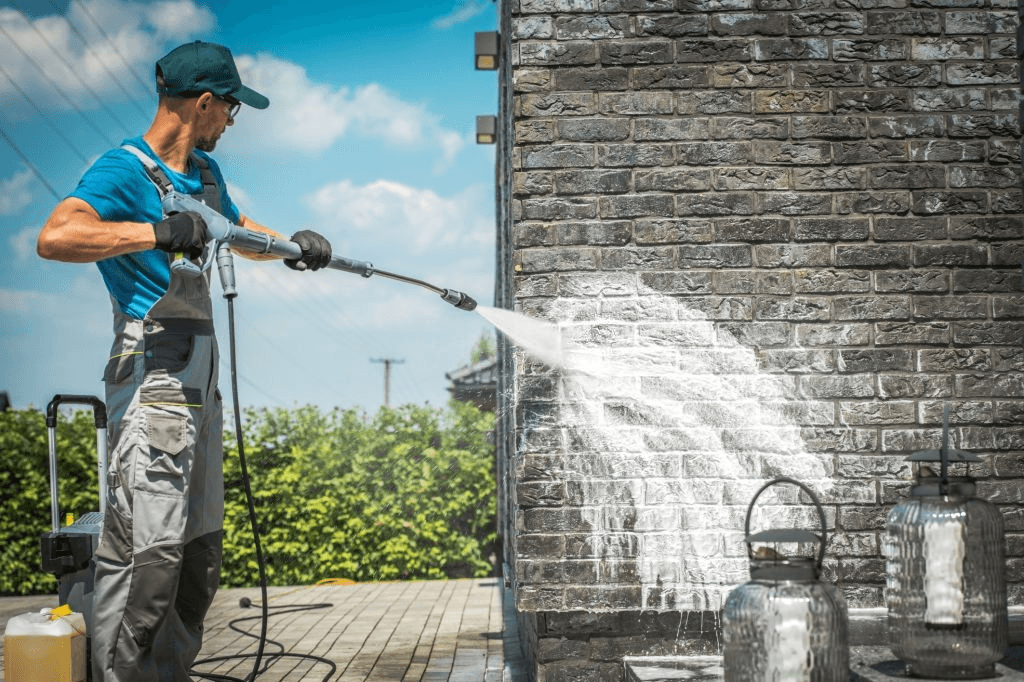 When you hear about experts talking about pressure washing, you'll usually hear some of them say that you need to use detergent. Why?
Have you ever tried to scrub off a stain on your floor by hand without using soap? It's pretty hard right? The same thing goes with pressure washing. If you don't use any detergent while you pressure wash, you won't be able to really take off the stains that stick, especially those thick and nasty grime stains. That's why we advise you to get pressure washer with detergent tank since you'll be using detergent a lot.

Of course, it's not enough that you'll put detergent in your detergent tank and spray away. You also need to learn the proper way on how to use a pressure washer with detergent. Even if you have the best pressure washer with detergent tank, you won't clean well if you don't know how to use it. That's what we will cover in this guide.
Are Pressure Washers with Detergent Dispenser Any Good?
When you started reading this article, you may have asked yourself, "Is a gas pressure washer with detergent tank really worth it? Can't I just get one without the detergent tank and save a bundle?"
You actually can get one without a tank. However, there will come a time when you're going to have to use detergent. If you buy one without a tank, you have to fill up a bucket with detergent and connect your pressure washer to it with a detergent hose. That can be a big hassle, so it's more advisable for you to get a gas or electric pressure washer with detergent tank on the onset.

That way, you don't need to go through all the trouble of connecting your pressure washer to a separate detergent source. Everything's right there and ready for use.
How to Use Pressure Washer Detergent Dispenser Properly
Now that you know more about the detergent tank, you're now ready to learn how to use a pressure washer with detergent. Don't worry because it's a very simple process.
All you have to do is follow these quick steps we laid out below:
Open up your detergent tank and fill it with the detergent of your choice.
If you don't have a detergent tank, fill a bucket with detergent and use the detergent hose to connect your pressure washer there.
Turn on the detergent valve.
Attach your low-pressure nozzle and test to see if you can spray detergent out.
Spray upward and make sure to hit all areas that have very thick dirt or grime.
After spraying detergent on the areas you need to, just leave it on for 10 minutes.
If the detergent dries, reapply another coating of detergent. Always remember to never let the detergent dry up while it's on your car/ATV/home exterior.
Turn the valve off and squeeze off all the excess the detergent.
Switch the low-pressure nozzle with a high-pressure nozzle and start spraying out the water.
Rinse all of the areas with the detergent and at the same time, wash away all the dirt and grime present.
Conclusion
As you can see, using detergent is a pretty integral part of pressure washing. You just can't take out some of the stubborn dirt without the right detergent. Fortunately, it's not hard to use detergent to pressure wash your car or your home. With our guide that you can easily follow, applying detergent on anything that you'd like to pressure wash really is as easy as 1, 2, 3.
So, the next time you need to pressure wash the exterior of your house, your car, or your ATV, just bring out your pressure washer and your choice of detergent. Bring out a bucket if your pressure washer doesn't have a detergent tank. From there, spray away and watch all the dirt and grime loosen up when the soap hits them.
Recommend Reading: