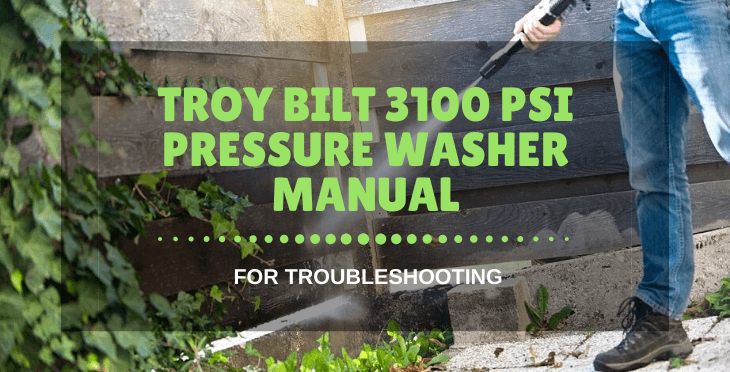 Troy Bilt 3100 PSI Pressure Washer Manual For Troubleshooting
If you buy an item via links on this page, we may earn a commission. Our editorial content is not influenced by commissions. Read the full disclosure.
​If you're having some trouble with your Troy Bilt 3100 PSI pressure washer, check out our Troy Bilt 3100 psi pressure washer manual to troubleshoot it.

​There will most likely be sometimes wherein your Troy Bilt 3100 PSI pressure washer will not work the way you want it to. In order to fix it, you need to first troubleshoot the pressure washer in order to identify which of the Troy Bilt 3100 psi pressure washer parts are affected.
​Once you've identified which parts are affected, it's only then that you can do some fixing. To make things easier, you must know how to troubleshoot certain problems. In this Troy Bilt 3100 psi pressure washer manual, we're going to go through some of the most common problems and their respective solutions.

​How To Troubleshoot Troy Bilt 3100 PSI Pressure Washer?
​There are four extremely common problems that happen with most Troy Bilt 3100 pressure washers.

​We'll enumerate them below and explain each one of them:
​Engine Turns Off While In Use Or Doesn't Start
​The first and most common problem that you may encounter is that your engine will keep on turning off or simply won't start.

​To troubleshoot this problem, you must first make sure that the engine switch is set to On. If that's okay, check if there is enough gasoline in your tank. If not, fill it up until it's enough for the machine to start. After that, check the oil levels and fill it to a sufficient level if needed.

​Once everything is okay in that section, go on to the air filter. If the air filter is dirty, clean it up. But if it is damaged, then you may want to replace it with a new one already.

​Detergent Not Mixing With The Sprayer
​Another common problem is the detergent not mixing with the water that comes out of your sprayer gun. There are either two causes of this problem: a clog or a crack.

​That said, the first thing you want to do is check the siphoning tube. If there is a clog, then the first thing you can do is try cleaning it. You may also want to check if the detergent ball clogged the system.

​To know, first turn the unit off and release any excess pressure from the spray gun. After that, take out the siphoning hose and use an Allen wrench to poke the barbed fitting. This will tell you if the ball is stuck there. If it is, then poke it until it becomes loose.

​But if you find a crack somewhere in the siphoning tube, then maybe it's about time to replace it. Buy a new one and then follow the manufacturer's instructions on how to replace it.
​If that's not the problem, then you may want to check your nozzle. Sometimes, people use low-pressure tips on their spray guns even though they want to clean with detergent. This won't work since low-pressure tips won't have enough power to push the detergent out. So, replace it with a high-pressure type.

​If you find the Troy Bilt 3100 psi pressure washer gpm too high, you may want to first release the pressure by squeezing the trigger gun. That will shoot out all excess pressure, allowing your pressure washer to work normally. Another thing you can do is check for an obstructed nozzle. Get a needle and poke the nozzle so that you can flush the clogged stuff out.

​Lastly, there's the issue of not having enough pressure. The first thing to do is to check the spray tip. If you are using the low-pressure spray tip, replace it with a high-pressure spray tip. That should do the trick immediately.

​If that still doesn't work, you may want to check the water inlet for blockages. If there are, scrape out the blockages and release excess air to push out debris. Finally, look for leaks in the spray gun. If there are cracks around that area, replace your spray gun.

​Troubleshooting Tips Summary
​Those are some of the things you may want to take note of when handling your Troy Bilt pressure washer. Now, to make things simpler, we'll summarize whatever we've written above so that you can have an easy reference.
​Pressure Problem (both too high and too low):
​Conclusion
​With this easy to understand Troy Bilt 3100 psi pressure washer manual, you will most likely not face a problem that you can't fix.
​With that in mind, go ahead and use your Troy Bilt 3100 PSI pressure washer like you always do. But if you encounter a problem, at least you know where to go.