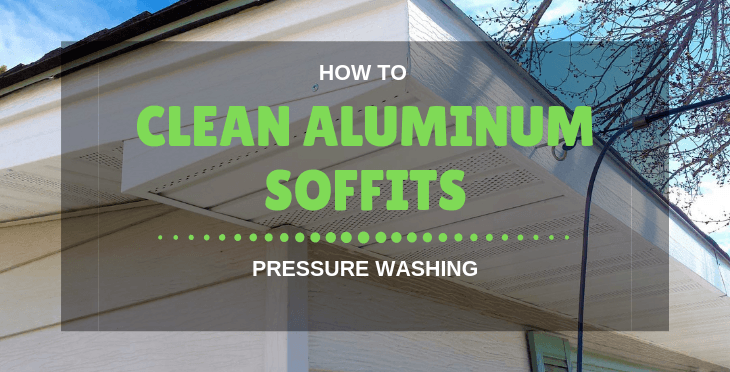 How to Clean Aluminum Soffits ǀ Pressure Washing
If you buy an item via links on this page, we may earn a commission. Our editorial content is not influenced by commissions. Read the full disclosure.
Is it safe to pressure wash aluminum soffits? If so, what is the best method on how to clean aluminum soffits? Let's learn the best ways in this quick guide.
Aluminum soffits are pretty hard to clean because they're hard to reach. The good thing about aluminum soffits is that they're very sturdy, so you can actually pressure wash them without worrying too much about damage. That being said, there is still a proper way on how to clean aluminum soffits. The best way to clean aluminum soffits will allow you to thoroughly clean them without causing dents and such.
So, in this guide, we'll not only show you the best way to do that but also the easiest way to clean aluminum soffits. Once you read our guide, you'll be cleaning your aluminum soffits without breaking much of a sweat.
Is It Safe to Pressure Wash Soffits?
When most people think about pressure washers, they'll immediately think about water that blasts at immense strength, powerful enough to destroy property— and they're actually right. If you're not careful with a pressure washer, you can do more damage than good to your home. 
So, is a pressure washer safe for washing soffits? We will say yes, if and only if you know the proper way on how to clean aluminum soffit vents. If you don't then it's really not safe to use a pressure washer for soffits. That's why we will go through the steps on how to clean aluminum soffits one by one. That way, you can understand how it's done properly. 
How to Clean Aluminum Soffits with a Pressure Washer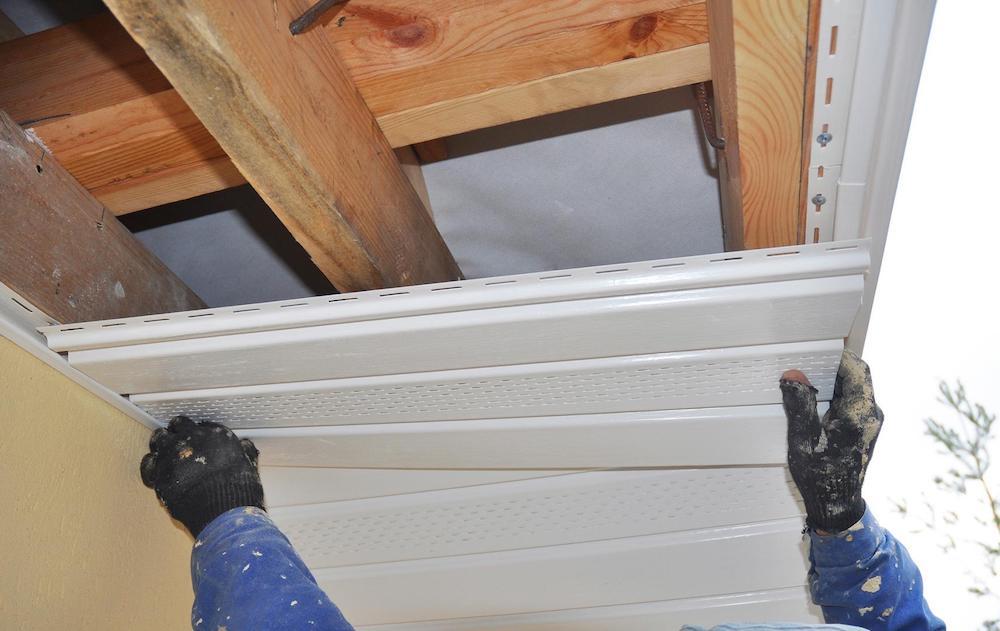 When learning how to clean aluminum gutters and soffits, we usually follow these simple steps:
1. Soak Your Soffits
Whenever you pressure wash anything, whether it's your home's soffits, your home exterior, your car, or your van, you need to do a preliminary soak. This is important to do this step because it allows you to loosen the dirt. This step also allows you to take out the dry and flaky debris. 
2. Apply Some Detergent
The next thing that you should do is apply some detergent with a low-pressure nozzle. Therefore, take out the detergent that you want to use and put it in the detergent tank. Test to see if the detergent comes out of the nozzle. If it does, start spraying the detergent on your soffits. You can leave the detergent on your aluminum soffits for around 5 minutes to let the soap settle. 
3. Rinse the Detergent
After the 5 minutes are over, switch to a mid-level pressure nozzle and rinse the detergent away. You'll notice that as you rinse the detergent away, you'll also wash away the sticky dirt and grime. Detergent helps loosen up the thick dirt, making the cleaning job easier. 
4. Aim for the Inside
Once you've cleaned out the outer part, you now have to move to the inner portion. To do this, use a curved wand. This allows you to aim for the inside area since the water will also curve. Do not try to elevate yourself with a ladder or a chair. The power of a pressure washer is enough to push you off and cause some serious injuries. 
5. Do a Final Rinse
After you've cleaned the inner area of your soffit and gutters, just do one final rinse on the inner and outer portions. This is just to make sure that no dirt was left behind after the previous steps. Just keep it quick though as you don't want to pressure wash for too long. Prolonged pressure washing may cause some damage to your gutters. Once you're done with the final rinse, you can start painting or polishing your aluminum soffits if you like.
Conclusion
What we've shown you above is the easy way to clean aluminum soffit. Now that you know how to clean aluminum soffits properly, you don't have to worry about whether it's safe or not. As long as you follow all the steps that we've mentioned above, then you should have absolutely no problem.
Just make sure that you keep safe when using your pressure washer. Wear all the necessary safety gear and also don't point the pressure washer anywhere except the soffits. Don't forget to also read all the precautionary measures listed on your pressure washer's user manual.
With all that, you're now set to clean your aluminum soffits! Hope you learn something from this article!
TOP 5 most viewed articles in month
In compiling a top-5 list of this month's most popular articles: