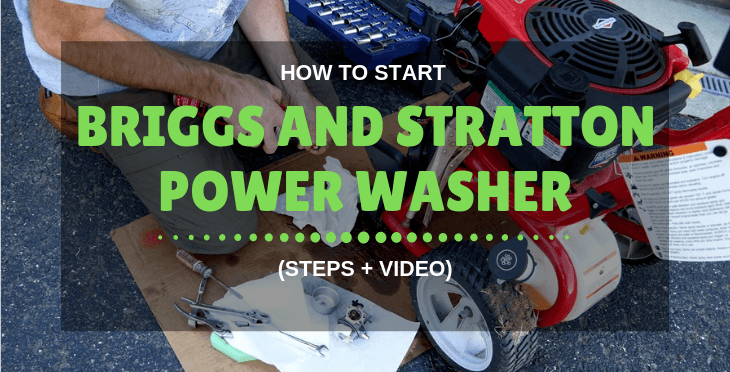 How to Start Briggs and Stratton Power Washer (Steps + Video)
If you buy an item via links on this page, we may earn a commission. Our editorial content is not influenced by commissions. Read the full disclosure.
Having some trouble starting up your power washer? Learn the steps on how to start Briggs and Stratton power washer with this short guide and video to help you out.
Undoubtedly, power washers are very useful tools that can thoroughly clean the exterior of houses as well as the areas around the house like patios, walkways, and driveways. However, these machines can be a little bit complicated to use if you happen to be a beginner. 
Fear not though, because we have the solution for you. We have come up with a short and easy to read guide on how to start Briggs and Stratton Power Washer in just a few simple steps. 
With this guide, even a person with no prior experience with power washers can easily use one. Without further introduction, let's get started with this guide on how to use Briggs and Stratton power washer.
Easy-to-follow Steps on How to Start Briggs and Stratton Power Washer
In order to learn how to start Briggs and Stratton Power Washer, it's first important to know the important parts of the pressure washer. Basically, these important parts are the pump, hose, nozzle, and the spray gun. The pressure washer works as a sprayer wherein the water comes from a tank found in the pump. The pump then pushes water into the high-pressure hose. The high-pressure hose then brings the water to the spray gun and sprays the water through the nozzle. 
Now that you know how the pressure washer works, it's a bit easier to know how to start a Briggs and Stratton power washer. The first thing that you have to know when you learn how to start Briggs and Stratton power washer is that it needs to be warmed up and set up before you can use it. So, the next steps will involve setting up the machine.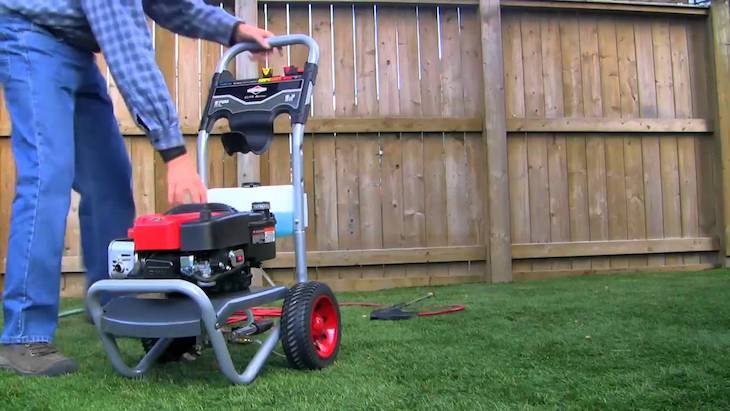 Here's how to do that:
Put your pressure washer outdoors near a water supply.
Make sure that the water supply is more than 3.8 gallons.
Carefully connect the spray gun, the hose, and the pump.
Put the machine in level position then connect the garden hose to the pump's water inlet.
First, turn on the machine and let out any excess air.
Connect the nozzle tightly to the spray gun.
Turn on the machine again.
Put throttle in High.
Switch the choke lever to the Choke option.
Now that your machine has already been set up, you're now ready to start it up. Before anything else, we'd like to remind you that you need to wear goggles while doing this so that you can keep your eyes safe. With that out of the way, let's now go on to how to start Briggs and Stratton power washer:
Put the choke lever to Run.
Grip the starter handle and pull it slowly until you feel it getting heavy.
Once the handle is heavy, pull it hard.
Lightly place back the handle to the original position.
Make sure the spray gun is facing a direction away from you.
Press the red button to unlock the trigger.
Hold down the trigger to release the pressure.
Important Reminders
Those are some of the steps on how to start a Briggs and Stratton ready start power washer. Before we end, here are a few important reminders you need to know:
If you can't start Briggs and Stratton power washer after the first pull, put the choke lever back to Choke, then Run, then try starting it again.
You stop your machine by setting your control lever to Stop
Always take out the excess pressure first before starting up the machine
Always make sure that the parts are tightly connected to each other when the machine is on
Conclusion
If you happen to have a Briggs and Stratton power washer, these are the steps you take in order to set it up and start it up for usage. We do understand though that these steps are specific for Briggs and Stratton power washers, so you might think that they might not apply for other brands. However, these steps are pretty generic. If you know how to start up a Briggs and Stratton pressure washer, you can start up any other kind. 
But just in case, we've provided a link for a great video that'll allow you to see how the setting up of a generic pressure washer is done. That way, you can also have the necessary visuals you may need.
Happy washing!
TOP 5 most viewed articles in month
In compiling a top-5 list of this month's most popular articles: